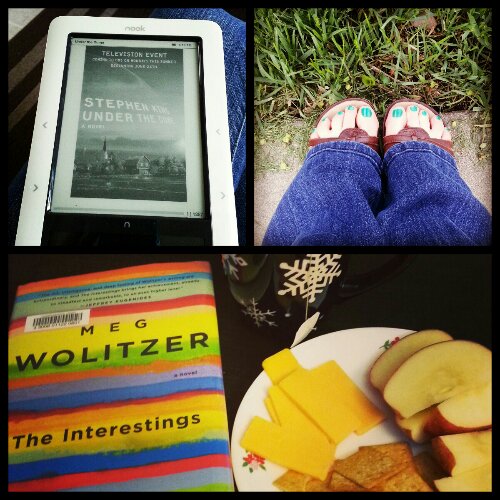 Time // 9:45 a.m., although I've already been up for two hours today…
Place // At my desk
Eating // Apples, Wheat Thins and cheddar cheese
Drinking // Black tea
Reading // It feels like I read a lot this week, but when I went to check in on Goodreads it turns out I only finished one book — The Boys in the Boat by Daniel Brown (out June 4 from Viking Books). But that one book was such a good read, it was totally worth it. I'm a junkie for sports nonfiction, so The Boys in the Boat, a story about the 1936 Olympic eight-man rowing team, was just up my alley. I loved it.
Today I've been reading The Interestings by Meg Wolitzer, which is wonderful in a totally different way. I am really enjoying the twisting in time structure and the way Wolitzer has captured some deep and true things about friendship and achievement and jealousy and love.
Reading Along // I've now gotten myself into three "readalong" type projects for the summer. My sister and I made plans to re-read the Harry Potter series, which we've been talking about for like a year but finally put on the calendar. I'm doing a Bible study with some close friends of mine, which is fascinating and wonderful and challenging since I'm not a person who has ever thought about the Bible. And I decided to join a summer readlong of Stephen King's Under the Dome being hosted mostly by Natalie at Coffee and a Book Chick. I'm not planning to do updates here on the blog, but I'm hoping to be more active on Twitter with the #DomeAlong hashtag. It's a lot of "committed" pages, but I think it's doable? We'll see, I guess!
Watching // I don't think I've watched anything interesting this week, but I know the boyfriend and I are going to settle into a few episodes of Arrested Development tonight when he gets home from work. I'm so excited!
Listening // I have had really bad luck with audiobooks lately. I lost interest in Outlander (I know!) and may give up on Insurgent (Tris and Four are super melodramatic…). I downloaded And the Mountains Echoed by Khaled Hosseini, which I'm optimistic will be good.
Making // I finally got the supplies to make this amazing sampler! I'm only through the B, I and T, but I think it's going to be awesome.
Blogging // It felt like a bit of a slow week on the blog, but it was gratifying to get so many lovely comments on my gushing "review" of All the President's Men. And it looked like there were a lot of new or unfamiliar commenters — thank you!
Promoting // Over at Book Riot, I wrote a post about 5 perfect books for The cOlbert Book Club that I think is fun. If you haven't watched that episode of The Colbert Report, I highly recommend it.
This is a little old, but I thought this piece from Margaret Sullivan, public editor at the New York Times, about repeat book reviews across NYT properties was interesting.
Hating // Something is wrong the mouse and/or keyboard for my computer where it refuses to highlight thing correctly. I have no idea what is going on. Also, people who change the subject lines in e-mail replies. Why?
Appreciating // I got many thoughtful comments on the couple of survey questions I asked during my blogiversary giveaway. They're giving me some good suggestions for things to keep doing and ways to keep evolving this blog. I don't anticipate any major changes at the moment, but I've got some ideas to noodle around.
Wanting // I am so excited for my vacation at the beginning of July. I'm going to take a road-trip down to Madison, Wisconsin to visit friends and get day drunk on the Terrace, then swing up to my parents' cabin in northern Wisconsin for the 4th of July weekend. I just can't wait.
Anticipating // Although I'm starting to feel bummed that I'm not going to be in New York for Book Expo America this year, I am excited to get to fully participate in Armchair BEA. I think I'm going to skip post any new book reviews this week and focus the blog on the daily discussion topics. Sorry in advance to non-blogging readers — I'll be back to regularly scheduled bookish posts next week.