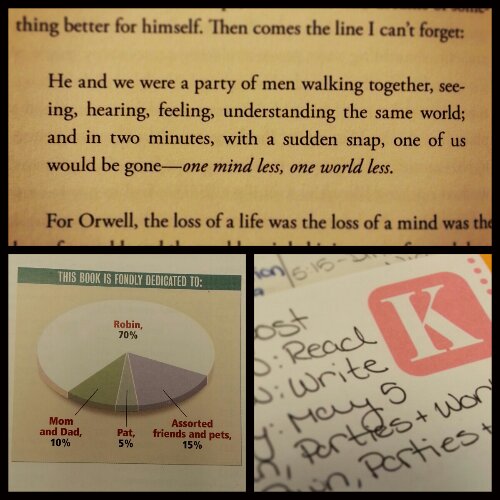 Time // 8:30 a.m.
Place // Back at my desk… it's too chilly to be out on the porch today.
Eating // Nothing yet. But I am hungry. I might break in the middle of this to grab some food, but we're pretty low on anything delicious right now. I suspect I'll be going to the grocery store this afternoon.
Drinking // Lemon-flavored black tea.
Reading // I had a great reading week to follow up last weekend's Readathon. Since last Sunday I finished three books: Divergent by Veronica Roth, The World's Strongest Librarian by Josh Hanagarne and Telegraph Avenue by Michael Chabon. The top quote above is by George Orwell from The World's Strongest Librarian.
Today I need to finish Pain, Parties and Work by Elizabeth Winder so I can post a review for a TLC Book Tour tomorrow (items five and six on my weekend to do list, bottom right photo). It's very interesting so far, so I'm excited to share more about it with all of you. After that, I'm not sure what I'll read next, probably one of my library books (Lean In by Sheryl Sandberg or A Natural History of Dragons by Marie Brennan — I decided I'm going to hold off on Miss Peregrine's Home for Peculiar Children by Ransom Riggs until the October Readathon).
Watching // I finished season three of Fringe this week and I'm not feeling especially drawn into season four so far. Part of what I love about the show is Peter and Olivia and Walter being together, so the fact that they're not is sort of annoying. I know things get back to "normal" eventually, but I'm not really excited to get there.
Nate and I also watched a couple of movies this week, Hitchcock (which we both liked a lot) and Iron Man 3 (where a lot of stuff gets blown up).
Listening // I started listening to Insurgent by Veronica Roth (the second in her YA series after Divergent). It's pretty decent YA that holds my attention when I'm exercising. I've been trying to run more, but the chilly weather has left me pretty unmotivated.
Blogging // I didn't get a lot posted this week, just a review of Frozen in Time by Mitchell Zuckoff and my April 2013 wrap-up, but I'm more optimistic about getting some posts up this week. I went to a local coffee shop yesterday and got drafts of several posts started — hooray!
Promoting // I'm looking forward to participating more fully in Armchair BEA, a way for book bloggers to participate in Book Expo America from the comfort of their living rooms. I am not going to BEA this year (a combination of money and wanting to travel other places), so I'm excited to try this out fully at the end of the month.
Avoiding // I have to work on a couple of small issues with my health insurance company, which I have been putting off for a couple of weeks now. I really need to get on the phone and take care of it today or tomorrow
Anticipating // I'm working on a really fun story for the newspaper this week, so I'm anticipating the time it'll take that to get put together. If it works out like I've planned it in my head, it's going to be really neat. I was inspired to try a more visual story by a new book I bought, The Newspaper Designer's Handbook, which has the best dedication I've seen in awhile (bottom left photo).
Happy Sunday, everyone! What are you reading today?