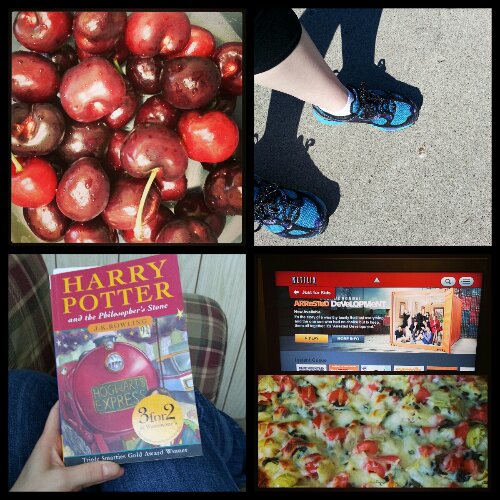 Time // 10:00 a.m.
Place // At my desk, again.
Eating // Cinnamon Cheerios and cherries (cherries finally went on sale this week and they are SO GOOD).
Drinking // Black tea and water.
Reading // I finished a bunch of books this week, although aside from The Interestings by Meg Wolitzer (which I liked a lot but didn't fall in love with), they were all pretty short — two middle grade biographies for a paid review I'm working on (Father Groppi by Stuart Stotts and Mary Nohl by Barbara Manger and Janine Smith) and Harry Potter and the Philosopher's Stone by J.K. Rowling for a re-read marathon with my sister. I also finished the last few chapters of Getting Things Done by David Allen, but I'm feeling a little intimidated with how to implement the system and actually start getting things done.
This week, I'm not sure what I am going to try to read. I feel like I'm in one of those moments where I have so many great options to choose from and I can't quite pick. We'll see what catches my eye later today.
Watching // The boyfriend and I have been slowly watching the new episodes of Arrested Development, which I think are very funny but also disjointed and missing some of the family dynamics I loved so much from the original series. I think we'll finish watching them this week. I also watched Anna Karenina (I liked it a lot) and started watching House of Cards on Netflix. I actually don't know anything about where this series is going, but I suspect dark places since Kevin Spacey's character killed a dying dog in the opening minutes of the pilot.
Making // While I was binge-watching House of Cards last night, I made some good progress on my sampler. It now just says BITCH, which makes me laugh.
Blogging // This week was Armchair BEA, so all of my posts were focused on the blogging side of book blogging. I wrote an introduction, a post about how I make money blogging, a post on blogging ethics and transparency, and a post where I offered to do personal nonfiction recommendations. The personal recommendations post seemed to be a hit — enough that I am going to think about turning it into a regular feature once I sort out the logistics.
Exercising // I think one of the reasons I was able to read so many books this month (12!) is because I've been neglecting to exercise. I need to change that, for both my physical and mental health, so I got up this morning and went for a run (Week 4, Day 1 of Couch to 5K). It was hard, but I feel good about it. I'd like to get into a habit of exercising right away in the morning, but we'll see how successful I am at that. The last time I was able to exercise consistently for a long period of time was when I had a buddy to exercise with and I don't have one of those right now.
Avoiding // I made a big project list for the weekend, and while I've checked off all of my chores I've been avoiding my writing projects. I'd like to get posts for the week written and scheduled, a professional review written, and catch up on comments. I think I can do it if I just settle in and focus, but we'll see.
Anticipating // Vacation! I'm not leaving for vacation until the end of the month, but I am already getting excited about being away from work and relaxing for an entire week.
Happy Sunday, everyone! What are you reading today?