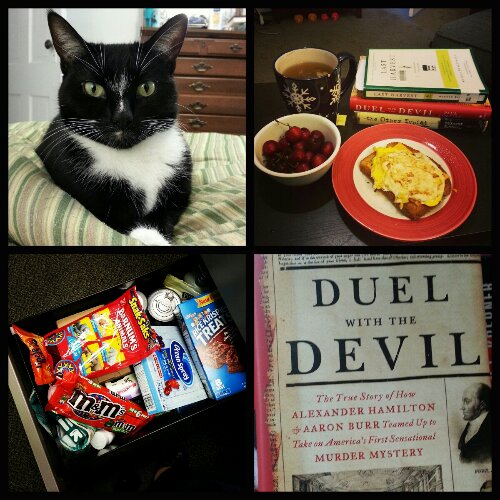 Time // 10:30 a.m.
Place // At my desk in cold, rainy rural Minnesota.
Eating // A fried egg on toast with extra sharp cheddar cheese with a side of cherries. I'm still obsessed.
Drinking // Good Earth Cocoa Chai Tea.
Reading // I've been a rather indecisive reader all week. I finished two books — Harry Potter and the Chamber of Secrets (my 50th book of the year!) and The Illusion of Separateness by Simon Van Booy for a TLC Book Tour next month — but have dipped in and out of several others. The book I'd really like to finish is The Last Harvest by Witold Rybczynski, a look at the history of urban development through a project in rural Pennsylvania. The small town I live in this right in the middle of its own development project so this book is interesting to me on several levels. I also read a couple chapters in Duel with the Devil by Paul Collins (because I am in love with the subtitle) and The Other Typist by Suzanne Rindell (because I'm tempted by hype and unreliable narrators). I also read the introduction of The Society of Timid Souls by Polly Morland, a look at historic and modern conceptions of bravery, that I think will be very good.
Watching // I've been trying to avoid getting sucked into another television show until the boyfriend and I finish Arrested Development and this season of Game of Thrones, so I didn't spend much time in front of the television this week. I did watch the first couple episodes of Ugly Betty last night while I was trying to get to sleep, and I think that one will be fun. Two big movies finally came to our one-screen movie theater this week — Star Trek: Into Darkness and The Great Gatsby — so I think the boyfriend and I will be going to those at some point.
Listening // With Audiobook Week coming up later this month (hosted by Jen at Devourer of Books), I should be trying to finish up at least one audio book. But I just haven't been in the mood. I've been listening to podcasts and NPR Music's 100 Favorite Songs of 2012. I think I've mentioned that particular Spotify list before, but if not I highly recommend it. About every other song makes me chair dance while I'm typing.
Blogging // Last week on the blog I posted a review of The Boys in the Boat by Daniel James Brown, shared my monthly wrap-up, and introduced the Harry Potter reading project my sister and I are taking on this summer. I'm not sure what the plan is yet for this week — depends what I can get written today!
Hating // The last few weeks at work have been oddly stressful. I'm not quite sure what is going on, but I know that work is starting to get to me when my snack drawer fills up with fruit snacks and Rice Krispie Treats. Unfortunately, I don't think it's going to get any calmer over the next three weeks while I work on putting out three editions of the paper, an extra special section, and prep for my vacation during the first week of July. I love my job, truly, but it's hard too.
Also, the weather, but that's become such a common refrain it's hardly worth mentioning. I went to an outdoor picnic this week bundled up in a coat and gloves. It's June, not October!
Loving // After toying around with several online/Android task management programs, I think I've finally settled on Todoist. It's very clean and easy to use, and it offers several ways to organize and review tasks.
Avoiding // I really need to clean my desk. There are books and pens and paper and candy wrappers and miscellaneous junk laying everywhere. I'll probably have to do that this morning before I can settle in and write this afternoon.
Anticipating // Vacation! It's still about three weeks away, but part of the joy of any trip is looking forward to leaving. I've already started trying to decide which books I am going to take with me. The stack is tall at the moment.
Happy Sunday, everyone! What are you reading today?