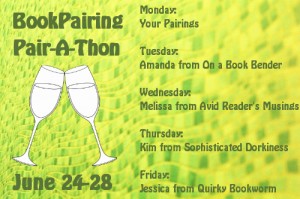 Man, I did not plan to led the blog fall into radio silence this week, but it's just been crazy with work, meetings, and packing.
Today you can find me across the blogosphere at BookPairing sharing a post about two things I love — nonfiction and television — as part of Nikki's Pair-A-Thon celebrating her first year of blogging.
I have to tell you, I love the concept of BookPairing — matching up books with drinks, food, travel, activities or events. Every time Nikki puts up a post, I wish I'd thought of it myself.
I was so excited when she asked me to write a guest post because it gave me a chance to write about a topic I've been tossing around in my head ever since I decided I wanted to convince everyone who loves Breaking Bad to read Methland by Nick Reding. And finally, I can!
I hope you'll take a few minutes to check it out and celebrate the Pair-A-Thon this week.