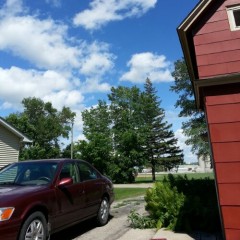 The day is finally here! After I finish putting together tomorrow's newspaper, put the final touches on the copy for a special section next week, and walk through my notes for next Saturday's newspaper… I am on vacation!
I can't even tell you how much I need this break, to just get away from basically everything for a week of eating good food, drinking many drinks, laughing with old friends and sitting with absolutely nothing to do… except, you know, read a ton of good books.
If there is a thing I love almost as much as vacation, it is picking out the books I will bring on vacation. There's a strange internal process I go through trying to decide what books will be perfect for the place I am going and the mood I hope I will be in. It's very mysterious.
For this trip, I had a misguided idea that instead of taking ALL THE BOOKS I would try to limit how many I took with me, knowing that I plan to visit several bookstores on this trip to pick up more if I happen to run short.
This turned out to be quite an ordeal.
I knew that I had reached a level of weird that is hard to come back from as I was taking books on and off the stack, wondering if I'd be more interested in reading about skyjacking, a cult for the lonely, or a murder mystery in storm-ravaged Helsinki while I was sipping on sweet tea and lemonade by the lake.
No, I don't think the subjects of the books are weird. I think they'll be awesome (which probably says a lot about me). But limiting the books I will take on vacation? When I have no limits on how much luggage I can take? Ridiculous. Why not just take all of them?
Hence, my vacation book pile: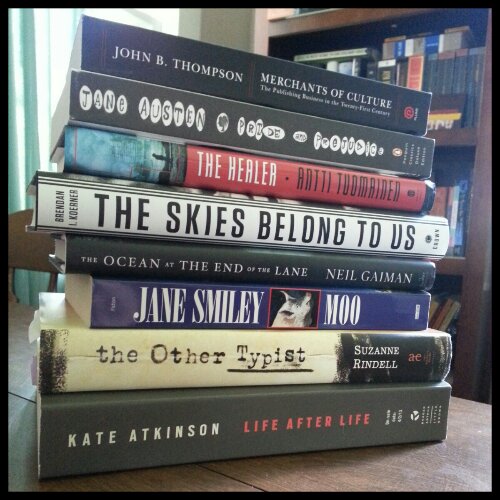 I think the titles are fairly clear, but if not here's a quick rundown with a couple sentences about how this book made it into my bag:
Woke Up Lonely by Fiona Maazel: This actually my current read (and not pictured), about a found of a cult that promises to cure loneliness who is, himself, very lonely. Friends have been gaga over this one, and I am excited to finally read it.
Life After Life by Kate Atkinson: I got a galley of this book unexpectedly back in like, March, but didn't make time to read it then. At some point I decided to wait to read it until the buzz toned down and hid it away for this vacation. I am SO DAMN EXCITED to read this one.
Moo by Jane Smiley: This is an older book that I borrowed from a couple of local friends about a month ago who said it was a funny read about a small college out on the prairie (exactly the kind of place I went to school). I can't wait for this one either.
The Other Typist by Suzanne Rindell: The buzz for this one is pretty high too, but I haven't gotten a chance to pick it up. The setting and unreliable narrator seem perfect for vacation.
The Skies Belong to Us by Brendan Koerner: I'm breaking my own rule about "no review copies" on vacation to bring this one along, but when the New York Times review called it "Such pure pop storytelling that reading it is like hearing the best song of summer squirt out of the radio" I couldn't resist.
The Ocean at the End of the Lane by Neil Gaiman: The folks at Harper sent me a copy of this book unexpectedly and it looks delightful (and short, sometimes you need a quick book).
The Healer by Antti Tuomainen: This is a Finnish dystopian/crime novel that had a really interesting premise. It's a pretty slim book and seems page-turning enough for a vacation read (even if it is pretty grim).
Merchants of Culture by John B. Thompson: This is a primer on the book publishing industry that a friend recommended. It might be too academic for vacation, but I want to bring it along anyway.
Pride and Prejudice by Jane Austen: Because I've wanted to read this since I finished The Lizzie Bennet Diaries and I just haven't yet.
There's certainly a possibility that more books will end up in this pile before I head out the door tonight — Tiny Beautiful Things is looking awfully appealing, and I think I forgot to grab Harry Potter and the Goblet of Fire from upstairs — but for now this is the slimmed down TBR pile I'll be picking from while I'm away.
Dork out.
P.S. But not quite. Although I'll be away from the blog for the next 10 days or so, I have a five guest posts from some of my favorite bloggers lined up for next week. I have a post scheduled for Sunday with the schedule, so stay tuned!
P.P.S. If you want to follow my vacation adventures (road trip!), I will probably likely be posting pictures to Instagram and sometimes popping on to Twitter.