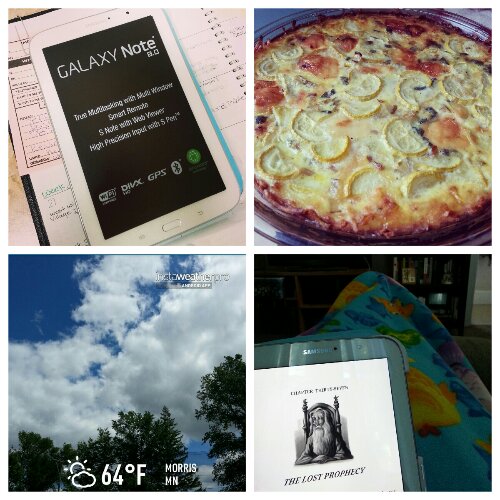 Time // 11:30 a.m.
Place // At my desk in my (slightly more tidy) office
Eating // Cheez-Its
Drinking // Green tea with lemon
Reading // I managed to finish two books this week, although it feels like I did most of my reading yesterday and this morning rather than making any time during the week. Yesterday I finished Sister by Jody LePage and Sylvia Bell White, an oral history of a woman raised in the segregated South and her life after moving North to Wisconsin. I also did an interview with the author for a paid review — I'll link to that when it eventually goes online. This morning I finished Harry Potter and the Order of the Phoenix for the readalong with my sister — ahead of our deadline! Now, I'm not really sure what I'll pick up next.
Watching // I finished Ugly Betty this week, which is good. Sometimes when I get on a binge with a show like that it's hard for me to do other things. I started re-watching New Girl, just to have something on while I'm eating breakfast, and I'm enjoying that. I think I am going to see The Heat with some friends this afternoon — we'll see on that one.
Listening // I am still in love with Siege and Storm by Leigh Bardugo. I was listening in the car last night and practically yelling at the characters, which is a sign of how much I love them and this story.
Cooking // I didn't spend quite as much time in the kitchen this week — evening meetings that I have to cover suck up a lot of cooking time — but I did make another quiche (not pictured). This time, a straight up bacon and kale quiche with a hashbrown crust (so good).
Promoting // Jenn of Jenn's Bookshelves started a Tumblr to rant about all of the horrible book pitches she gets. The ones she's posted so far are glorious. Make sure you check out Idiots in My Inbox.
I also had a post up on Book Riot earlier this month that I forgot to mention — 5 Books J.K. Rowling Should Write.
Organizing // I'm still on my de-cluttering kick, which is good. Sometimes these things come and go and I never make much progress. Over the week I did a purge of a couple of my bookshelves and did a little straightening in our kitchen. This afternoon I'm going to sort out a couple of cupboards/closets upstairs that have a lot of miscellaneous bathroom supplies (while listening to Siege and Storm, of course).
Loving // My new tablet! I decided to splurge a bit on this one and ended up getting the Samsung Galaxy Note 8.0. I haven't come close to exploring all the features yet, but so far I love using it as a note-taking device and an ereader. I didn't think I'd like reading on a backlit screen, but so far it's great. I'll try to write some more about it after I've had it a bit longer.
Loving/Hating // The weather took a turn late in the week, going from the 90s and humid to the 60s and 70s with a lovely breeze. While I'm glad it's not unbearably hot anymore, I'm not ready for the summer to be over yet either. I hope I can at least got outside to enjoy the weather for awhile this afternoon.
Anticipating // I'm excited to get some more decluttering done this afternoon, write a couple of reviews for the week, catch up on comments and head out for a movie. It should be a nice Sunday.