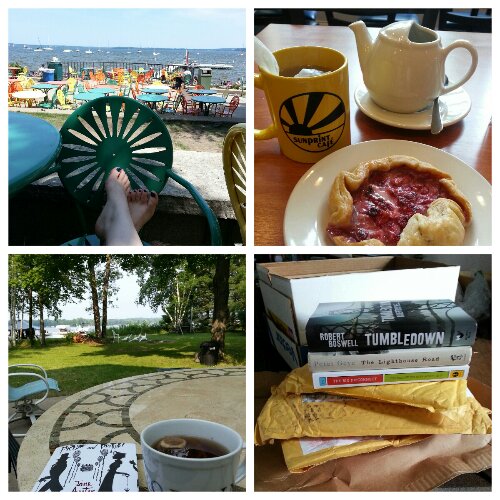 Time // 11:30 a.m. on my 27th birthday!
Place // At my desk, back in small town Minnesota after nine days away
Eating // Nothing for now, but the boyfriend did make me eggs and bacon for breakfast.
Drinking // Cranberry blood orange tea
Reading // Right now I'm reading Pride and Prejudice by Jane Austen and Hothouse by Boris Kachka. I got four books read on vacation though — Lexicon by Max Barry, Life After Life by Kate Atkinson, She Matters by Susanna Sonnenberg, and The Boys of Winter by Wayne Coffey. Yep, I know most of those aren't on the list of books I brought with me… I am easily tempted by all the new books I picked up!
Listening // I finished one audio book on my trip, Shadow and Bone by Leigh Bardugo, which I liked a lot. I also made some progress in Shadow of Night by Deborah Harkness, but the Elizabethan intrigue is still pretty slow going for me.
Blogging // I have a lot of comments to catch up on… so many that I may just admit defeat and start from scratch today. I loved all the comments on my guest posts last week, so thank you all for being so welcoming to new faces.
Loving // I'm so happy I decided to take today off from work. It's lovely to have a full day to myself to get settled and enjoy my birthday. I did get sucked into a work issue this morning, but I think it's settled until I can address it more fully tomorrow.
Anticipating // I have a couple of small birthday celebrations today, lunch with a friend in an hour or so and a small party with friends tonight. I still have some house cleaning and grocery shopping to do, so I should get on that!
Happy Monday, everyone!