Today I am excited to welcome Jennifer Hartling of The Relentless Reader to the blog with a really fun post about discovering (and re-discovering, and re-discovering) a favorite nonfiction author. Like me, Jennifer lives in a small town in the Midwest and loves to write about nonfiction (among many other genres). She's a relatively new-to-me blogger, but I absolutely love her succinct, GIF-filled reviews. I hope you'll visit her blog too!
First, I have to thank Kim for asking me to guest post here today. Kim is my nonfiction guru. The fact that I get to take over her blog for the day is an honor.
Recently I had a fantastic bookish moment. It took some meandering to get there but when I did I was as giddy as a schoolgirl. Let me explain.
I have a bit of trouble remembering author's names. (Could it be because of my age? NO. It could not.) This fact is important and pertains to the rest of my little tale.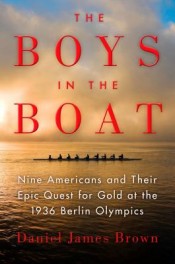 You may have heard the buzz about the new book The Boys in the Boat by Daniel James Brown. I first heard of it here on Sophisticated Dorkiness. As soon as I read Kim's review I zipped on over to Goodreads to add the book to one of my lists.
As I was perusing the author's page on Goodreads I noticed one of my all time favorite nonfiction books, Under a Flaming Sky: The Great Hinckley Firestorm of 1894. Well look at that! Hey, it's by the same author of The Boys in the Boat!
Then, a few days later Historical Fiction Notebook reviewed a nonfiction book about the Donner Party. I left her a rambling message raving about another Donner Party book that I'd read and fallen madly in love with years ago. I couldn't remember the author (surprise!) or even the title.
After a little searching I found it. It is called The Indifferent Stars Above: The Harrowing Saga of a Donner Party Bride. The author? None other than Daniel James Brown! My bookish moment! Hooray! Here is where I realized that DJBrown can do no wrong and that he has a backlist that I must explore.
I'm not sure what the moral of this story is. That Daniel James Brown is one of the finest nonfiction authors out there? That I should really keep better track of what I read? One of those.