A few months ago I started a new feature that I am (temporarily) calling the Sophisticated Dorkiness Nonfiction Recommendation. Readers fill out a short list of questions and I'll use those answers to make some personalized recommendations. My real hope is that other blog readers will jump in and help out too, making each post a big list of great nonfiction for people to consider.
Here's today's first request from Rachel: 
I am interested in books about women in history, whether they are famous in their own right or were the wife of a man who was important in history. I also am interested in books that deal with the role of religion in peoples' lives, especially when they are "extreme" religions, or just extremely involved in their religion.

I haven't read much about the women in history thing, so I probably need a little more help in that area. The letters of John and Abigail Adams have been sitting on my TBR list for years. As far as religion, right now I am reading a memoir about a woman who used to be a nun (The Red Skirt: Memoirs of an Ex Nun by Patricia O'Donnell-Gibson) and really enjoying it. I just read The Lonely Polygamist, which is fiction and deals with a polygamist family. I also have watched multiple documentaries, but the only title I can remember right now is Jesus Camp, which was about children raised in fanatical evangelist homes.

I like them as personal as possible, hence why the only nonfiction reading I've ever done has been memoir. I also don't want anything academic, because as a college student I have to do enough academic reading already.
This is such a good question. Who doesn't love a good religion memoir? Because I don't want to reinvent the wheel, my first suggestion is to check out this post by my friend Rebecca over at Book Riot on "losing my religion" memoirs. Rebecca has collected quite a few good ones worth checking out including one that was on my TBR list already, Unodthodox by Deborah Feldman.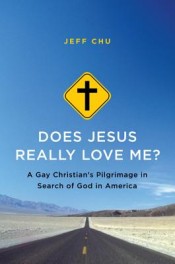 The best book on religion I've read lately is Does Jesus Really Love Me? by Jeff Chu. In the book, Chu, a gay Christian, sets out on a year-long pilgrimage to ask tough questions about why so many people who read the same scriptures can come to such radically different ideas conclusions about issues of faith, the church and homosexuality. It was a generous, smart, intriguing book that I think everyone should read.
For women in history, I want to suggest Catherine the Great by Robert K. Massie. I listened to this one on audio book and enjoyed it a lot. Massie keeps the biography focused on the people around Catherine, a smart move that kept this one new and interesting for me.
My final suggestion is Just Send Me Word by Orlando Figes, a book that just caught my eye a few weeks ago. It's a book of letters between a 29-year-old man stuck in a gulag in Russia and his missing sweetheart. I know it's a different time period entirely than the letters of John and Abigail Adams, but it seems in the same family of stories.
Next, we have my most challenging request to date from Jenny:
I want a book about SPIES. I have not read any other books on this topic. I read Code Name Verity but that is pretty much it. I want to read about spies in like, 1880 to 1940. That period. Ideally.
I spent a long time thinking about this one and, to be honest, couldn't think of a single book on spies. But then I came across a wonderful post at The Literary Ominvore about a book called Spy Princess by Shrabani Basu. Spy Princess is the story of Noor Inayat Khan, "the first woman wireless transmitter in occupied France during WWII" who was trained to be a British spy. It sounds awesome, so I hope you read it and tell me what you think!
Interested in getting a personalized nonfiction recommendation? Please fill out this form to get on the list. I hoping to do these posts a little more frequently, if there's more interest!