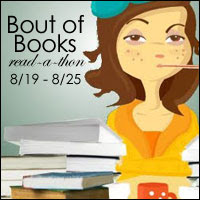 Coming up later this month is a new-to-me event that looks like a lot of fun, the Bout of Books. Here are the details, for those who may also be interested in participating:
The Bout of Books readathon is organized by Amanda at On a Book Bender and Kelly at Reading the Paranormal. It is a week long readathon that begins 12:01 a.m. Monday, August 19 and runs through Sunday, August 25 in whatever time zone you are in. Bout of Books is low-pressure, and the only reading competition is between you and your usual number of books read in a week. There are challenges, giveaways, and a grand prize, but all of these are completely optional. For all Bout of Books 8.0 information and updates, be sure to visit the Bout of Books blog. — From the Bout of Books team
I love a good readathon, especially one that is low pressure and open to challenging yourself. I think that rather than challenging myself to read a certain number of books, I will be challenging myself to give up most television for the week and use that time for reading (or listening to audiobooks). There are also a few challenges and giveaways that sound like (book nerdy) fun.
Coincidentally, the weekend before Bout of Books the Estella Society is hosting the Dog Days of Summer Readathon, an special weekend for relaxed reading. It kind of sounds like every weekend, except with a built-in excuse for ignoring everyone I know for a few days. It's good to be a book nerd.