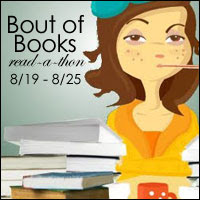 The Bout of Books 8.0, a week-long readathon, officially started at 12:01 a.m. today, but since I was sick most of the weekend I definitely didn't stay up late to sneak in a few super-early-morning hours.
After going back and forth a bit, I decided that my one goal for the week of the Bout of Books is to eliminate all of my solo time in front of the television. I will still watch some tv with the boyfriend (we usually watch during dinner), but otherwise the television is staying turned off this week.
I don't care how many books I read or even how much time I spend reading. I just want to see what I do with my time when I'm not sitting in front of the tv for a good chunk of my evenings.
Books to Read
I don't have a specific plan or goals of which books to read, but these are the books grabbing my attention at the moment:
Night Film by Marisha Pessl — I splurged and pre-ordered a copy of this one. It's supposed to arrive in the mail on Tuesday (fingers crossed!).
Tiny Beautiful Things by Cheryl Strayed — I've been reading this one very slowly over the last month or so. It'd be nice to finish it sometime this week.
Why Have Kids? by Jessica Valenti — I found this one at the library this week and I'm really curious about it.
Geek Love by Katherine Dunn — I borrowed this book from a friend several months ago but haven't read it yet. I saw it on Andi's readathon pile with some enthusiastic endorsements so on to the pile it goes.
Visiting Tom by Michael Perry — I'm on a book tour for this one at the beginning of September, so I might try to finish it up this week.
Updates
I think the plan will be to do short updates on this post everyday, with a final update and reflections at the end of the week, maybe next Sunday night or Monday morning. I don't want to spend a lot of time doing readathon updates on the blog, so if you want to see how I'm doing I'll mostly be on Twitter and Instagram.
Monday
Pages Read Today: 168
Total Pages Read: 168
Books Read/Finished: Tiny Beautiful Things by Cheryl Strayed (in progress)
Other Notes: I didn't watch any television yesterday, so it was a good start to the week!
Tuesday
Pages Read Today: 115
Total Pages Read: 283
Books Read/Finished: Tiny Beautiful Things by Cheryl Strayed (in progress) and Night Film by Marisha Pessel (in progress)
Other Notes: I'm so excited to finally have a copy of Night Film. It's an absolutely gorgeous book (well constructed, nice paper, lots of visuals) and, so far, a fun read. I also really like the extras you can uncover with the Decoder App — that's a fun extra.