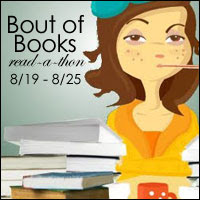 I'm a little bit late getting any final thoughts on the Bout of Books posted, but I have a good reason — I spent most of today reading! I started Oryx and Crake on Saturday and I just couldn't put it down until I finished right after dinner today. Here are my final stats for the week:
Saturday/Sunday (and Monday)
Pages Read Over Three Days: 374
Total Pages Read: 1,328
Books Read/Finished: Tiny Beautiful Things by Cheryl Strayed (finished), Night Film by Marisha Pessl (finished), Why Have Kids? by Jessica Valenti (in progress), and Oryx and Crake by Margaret Atwood (finished on Monday)
Other Notes: Technically, I just finished Oryx and Crake a few minutes ago, but since I haven't watched any television today it still feels a little bit like the Bout of Books is going on. And since there aren't any official prizes for books or pages read, I don't mind fudging a little bit.
Overall, I had a lot of fun participating in the Bout of Books (you can check some of my status updates here and here). The only goal I set for the week was to cut out solo time in front of the television and, for the most part, I succeeded.  I broke down late in the week, but overall I think I probably only watched about four hours of television total. Most of that was late in the week or when I was feeling tired — I like to have something on tv when I'm trying to take a nap.
The reading highlight of the week was probably Night Film. I pre-ordered the book, which meant it arrived on Tuesday in the afternoon. I read it voraciously until Friday night when I finished it up on a furious reading marathon because I was so creeped out reading it alone, at night, in my old and noisy house. It was a great book — perfect for the Halloween season, if you're into that sort of thing.
For now, I'm trying to catch up on comments — I neglected the blog in favor of reading most of the week too — and get started with Year of the Flood by Margaret Atwood (the second book in The Maddaddam Trilogy). I'm so excited for that one too!