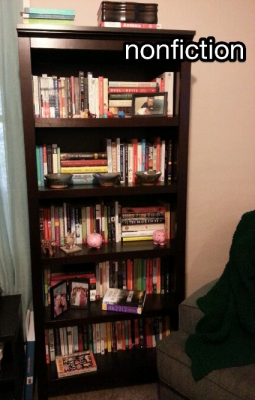 Yesterday I had the pleasure of guest posting for fellow blogger and pen pal Julie over at JulzReads. Julie is currently lakeside in Wisconsin celebrating her 10 year anniversary with her hubby — she asked several bloggers to share their bookshelves while she was gone.
You can get a sneak peek at one of my favorite bookshelves at the left — my read nonfiction shelf. I just recently culled, dusted and rearranged that shelf, I love looking at it and remembering some of my favorite reads over the last several years.
I hope you'll pop over to Julie's blog to read the rest of the post and join a little discussion about the benefits of separating your read and unread books on different bookshelves. Enjoy!