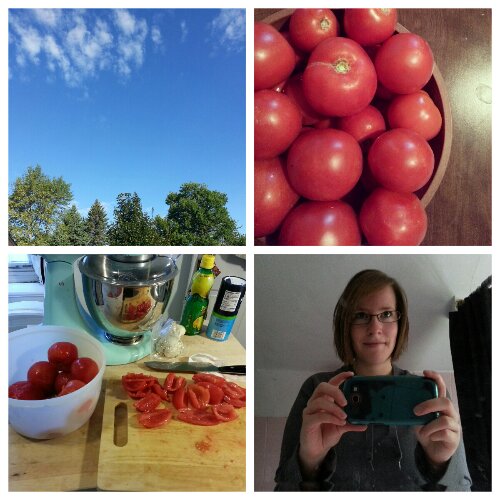 Time // About noon… we had friends over late last so it's been a slow Sunday.
Place // Sitting in my favorite chair, getting ready to watching the Vikings-Bears game… and the Vikings just returned the opening kickoff for a touchdown. Wow!
Eating // Nothing yet, but I have some leftover homemade pizza from last night that I'm looking forward to grabbing in a few minutes.
Drinking // Water
Reading // As you can maybe guess from the photos at the top of the post (no books), I haven't done much reading this week. I can't seem to settle into anything that I start. I've read a few chapters in Lean In by Sheryl Sandberg, and about 2/3 of What the Most Successful People Do Before Breakfast by Laura Vanderkam. I tried starting an ARC of The Goldfinch, but it was late at night and I got sleepy. This week I need to decide on a book to blurb for October for Bloggers Recommend, but otherwise don't have many reading plans.
Watching // The Boyfriend and I got caught up with a couple favorite shows, The League and Breaking Bad. The last season of Fringe is (finally) on Netflix, so I'll be watching that the next couple of weeks.
Listening // I impulsively bought a wireless bluetooth speaker while I was out shopping yesterday, which was amazing to set up in my kitchen while I was cooking. I got basically caught up with my favorite podcast, Pop Culture Happy Hour.
Cooking // One of the ladies in our office brought in a huge bag of tomatoes she didn't want, so I got to bring a ton home on Friday. I spent yesterday afternoon prepping, cutting, and freezing a few pounds. I also made some tomato sauce that we used on a pizza, and plan to use the rest to make some pasta for dinner tonight. It was fun to try something new like that.
Blogging // Inspired by a great Twitter conversation on Friday afternoon, Jennifer (Literate Housewife), Shannon (River City Reading) are working on putting together a survey for book bloggers about longevity, inspiration, and blogger burnout. We're still working on questions — suggestions more than welcome — but I will be sure to let you know about it when we're ready.
Promoting // Related to blogging, there have been a bunch of great posts from bloggers I admire about why they blog and the future of blogging: Necromancy Never Pays, Beth Fish Reads, and The 3R's Blog. There have been others, I think, but I can't think of them at the moment.
Hating // I don't like feeling as unsettled as I did this week — I miss reading! — but I think I turned a corner yesterday.
Loving // One of the best pieces of advice I got from What the Most Successful People Do Before Breakfast (which includes advice on improving mornings, weekends and work)  is that the best way to have rejuvenating, fulfilling weekends is to make plans to do things you love or are excited about. I tried doing that this weekend and really did feel better about how my Saturday went. I can't wait to finish that book and write more about it. Also, I love that having friends over got me to clean my house — it looks so nice in here right now. Oh, and I got a haircut this week. It's a bit shorter than usual, but I'm really starting to like it.
Wanting // I want to go shopping for some new clothes. I sort of hate everything I own at the moment… I may splurge a bit on a shopping trip next weekend.
Anticipating // We got some very fall-like weather this week, which has been great. I can't wait to wear scarves and make soup and maybe experiment with baking my own bread.