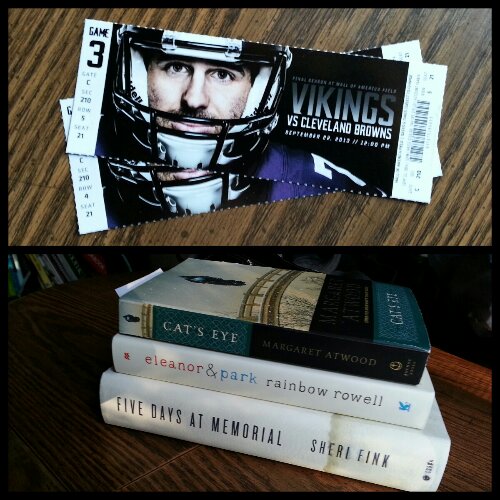 Time // 8:55 a.m.
Place // On the bus with my sister, heading to our first Vikings game ever!! (Full disclosure: I wrote part of this post yesterday night.)
Feeling // Super excited!
Reading // It was another slow reading week around these parts. I did manage to finish Lean In by Sheryl Sandberg (wonderful, by the way), but that's it. And I'm starting to be ok with reading slowly for awhile. It's a nice break to make space for other things.
My reading priority for this week is to finish Cat's Eye by Margaret Atwood. I selected it for a one-time "book club" with some girlfriends next weekend, so I have to get it read and some up with some discussion points. I'm a few chapters in and so far it's amazing, as one might expect.
Watching // Fall television started this week! I didn't watch as many new shows as I thought I would, but fell in love with the first episode of Brooklyn Nine Nine, a police comedy in the vein of Parks and Recreation by the same folks. I think it's going to be awesome (the Boyfriend liked it too!).
Listening // I'm going to be traveling for the next three weekends, so I think there will be prime opportunity for some audio books. I have Countdown City by Ben H. Winters queued up, but I'm not sure if that's what I'll end up going with.
Buying // I almost pulled the trigger to buy myself my first DSLR digital camera yesterday, but chickened out at the last minute because I couldn't decide on lenses. I'm pretty sure I'm going to go with the Canon Revel (Ti3), but I can't decide whether to get two lenses (one standard and one for more distance shots) or splurge a little bit on an all-in-one lens. The sales person suggested the all-in-one, since I'm going to be using the camera a lot for work and changing out lenses on the fly is a pain, but I'm not sure. I'm open to any and all tips or suggestions from you photographers out there!
Blogging // I put up a long post on why (and how) I blog yesterday, which isn't really much of an answer to those questions so much as some more pondering on my plans for blogging.
Wanting // I'd love to take a week off and read. I splurged on Five Days and Memorial and Eleanor and Park when out shopping this weekend, but I'm not sure when I'll get to read them…
Anticipating // I'm excited about the game (duh) and also about getting home for Breaking Bad tonight.