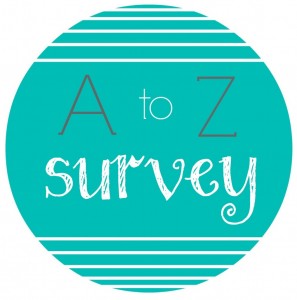 Earlier this week I stumbled across the A to Z Survey on Megan's (Leafing Through Life) blog, and it looked like fun. The survey is the brainchild of Jamie at The Perpetual Page-Turner, so thanks for coming up with this idea. Happy Friday, everyone!
Author you've read the most books from: I think this is a tie between J.K. Rowling and Margaret Atwood.
Best Sequel Ever: I'm not sure if it's the best ever, but I really loved The Magician King by Lev Grossman
Currently Reading: Lady Catherine, the Earl, and the Real Downton Abbey by The Countess of Carnarvon
Drink of Choice While Reading: Generally, I like tea. But I've been trying to drink more water recently.
E-reader or Physical Book? I still like physical books, but I'm starting to like reading egalleys on my tablet because it's pretty convenient.
Fictional Character You Probably Would Have Actually Dated In High School: I think Iwould have gotten along with Wade/Parzival from Ready Player One — I was into nerds.
Glad You Gave This Book A Chance: I didn't think I would like epic poetry, but I really enjoyed The Odyssey by Homer.
Hidden Gem Book: My favorite hidden gem from this year was Ten Letters by Eli Saslow.
Important Moment in your Reading Life: I read Heart of Darkness my junior year in high school. That book changed my ideas about what great literature could be.
Just Finished: Harry Potter and the Deathly Hallows by J.K. Rowling
Kinds of Books You Won't Read: Generally speaking, I don't read horror — I'm not that interested in being scared!
Longest Book You've Read: Infinite Jest by David Foster Wallace
Major book hangover because of: The City and the City by China Mieville
Number of Bookcases You Own: Five
One Book You Have Read Multiple Times: Frankenstein by Mary Shelley
Preferred Place To Read: By the lake at my parents' cabin
Quote that inspires you/gives you all the feels from a book you've read: I just finished reading Tiny Beautiful Things by Cheryl Strayed, which is full of good quotables. This one stuck with me: "You don't have a right to the cards you believe you should have been dealt. You have an obligation to play the hell out of the ones you're holding."
Reading Regret: I wish that I hadn't wasted time listening to the audio book of Twilight
Series You Started And Need To Finish(all books are out in series): I never finished reading all of the Amelia Peabody mysteries by Elizabeth Peters
Three of your All-Time Favorite Books: The Spirit Catches You and You Fall Downby Anne Fadiman, The Blind Assassin by Margaret Atwood, The Sparrow by Mary Doria Russell
Unapologetic Fangirl For: Harry Potter!
Very Excited For This Release More Than All The Others: The third book in Lev Grossman's The Magicians trilogy
Worst Bookish Habit: I tend to buy way more books than I have time to read. At last count, I own enough books to have reading material for the next 2.5 years.
X Marks The Spot: Start at the top left of your shelf and pick the 27th book: I have many book shelves, so I decided to pick this one from my unread nonfiction shelf: The Lifespan of a Fact by John D'Agata and Jim Fingal
Your latest book purchase: What the Most Successful People Do Before Breakfast by Laura Vandenkam
ZZZ-snatcher book (last book that kept you up WAY late): Night Film  by Marisha Pessl — I stayed up well past my bedtime to finish this one because it was awesome (and because I was too scared to go to sleep).