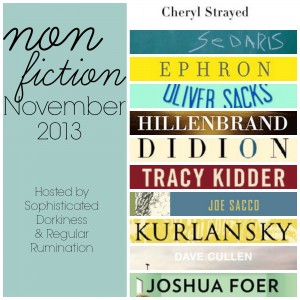 What is more fun than a book blogging event that includes nonfiction and alliteration? Nothing!
I should back up. A few weeks ago, Leslie from Regular Rumination asked me if I'd be interested in joining her in a personal challenge to read and write exclusively about nonfiction in November. Leslie is one of my favorite people and I love nonfiction, so of course I agreed. After we talked a little more, we decided that it would be fun to open up the project a bit to host a low-key (but also exciting) celebration of nonfiction during the month of November.
It should be pretty simple. On the Monday of each week next month, one of us will put up a post with the weekly discussion topic. The post will have a place to share links with responses to the topic OR reviews of nonfiction books that are posted during the week. On the Friday of each week, one of us will do a roundup of submissions to peruse. At the end of the month, we'll draw two winners from all of the submissions to win one of two nonfiction-themed prized packages (contents to be announced later).
To get people excited (or to have a chance to prepare), here are the topics we've selected:
Week 1: November 4 to 8 (Hosted by Leslie)

Nonfiction Favorite(s): What is your favorite piece of nonfiction? Or, if you can't pick just one, share several of your best nonfiction reads.

Week 2: November 11 to 15 (Hosted by Kim)

Be the Expert/Ask the Expert/Become the Expert: Share a list of nonfiction books on a topic you know a lot about. Or, ask for some advice for books on a particular topic. Or, put together a list of nonfiction books on a topic you're curious about.

Week 3: November 18 to 22 (Hosted by Leslie)

Book Pairing: Match a fiction book with a nonfiction book that you would recommend.

Week 4: November 25 to 29 (Hosted by Kim)

New to My TBR: What nonfiction have you added to your toppling TBR pile this month? Be sure to credit which bloggers you heard about titles from (if you can remember)!
It should be pretty simple. A post to accept links will go up on Monday. Share your discussion topic or review of a nonfiction book any time during the week. Check out all of the great nonfiction posts throughout the week or in a roundup on Friday. If you want to focus your reading on nonfiction, that would be awesome too, but that is certainly not required.
I hope you'll join us for an awesome month of exploring and celebrating nonfiction! Hope to see you on Monday!