On Sunday morning, my sister Jenny and I were getting ready to go out and grab breakfast when she noticed an announcement for Half Price Books' yearly clearance sale — all books $3 or under. We're both big fans of Half Price Books (a buy and sell used books chain), so adjusting our plans to go to a sale big enough to be held in the Grandstand at the Minnesota State Fairgrounds was a no-brainer.
After a couple of wrong turns, we arrived at the sale at about 11 a.m. on Sunday, the second day of the event. We weren't sure what to expect; would all of the good books be gone? Would it be insanely busy? As we walked in we saw some customers coming out of the building with shopping carts full of books, which we laughed at and confidently said we wouldn't grab that many.
How wrong we were.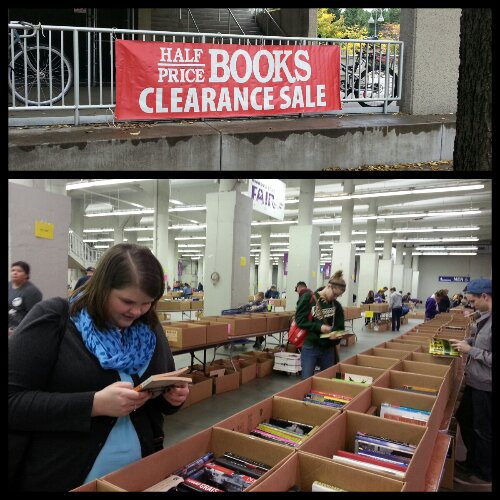 It's hard to give a sense of how big the sale actually was. Even this picture I took of Jenny browsing only captures about a third of the space. It was insane. The books were separated out generally into nonfiction, fiction, young adult and children's sections, but within those categories it was pretty disorganized (which was definitely expected given how many books there were to choose from). Jenny and I bought a tote bag and just started wandering, pulling books from the tables that we were interested in or thought the other one would like.
After getting through about three rows of tables, we discovered that our tote bag was entirely full. Jenny headed back up to the front and bought another tote bag, which we filled up in no time at all. In the end, we left with 36 books for about $36… amazing! Here's the photo we took when we got home (my books are on the left, Jenny's are on the right):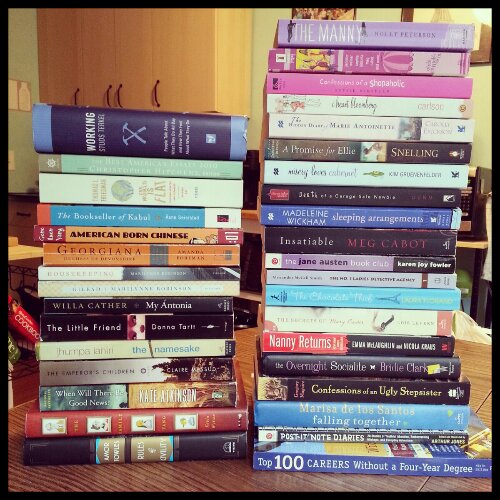 Since the titles are small, here's what's on my pile:
Working by Studs Terkle
Best American Essays 2010, edited by Christopher Hitchens
The World is Flat by Thomas L. Friedman
The Bookseller of Kabul by Asne Seierstad
American Born Chinese by Gene Luen Yang
Georgiana: Duchess of Devonshire by Amanda Foreman
Housekeeping by Marilynne Robinson
Gilead by Marilynne Robinson
My Antonia by Willa Cather
The Little Friend by Donna Tartt
The Namesake by Jhumpa Lahiri
The Emperor's Children by Claire Messud
When Will There Be Good News? by Kate Atkinson
The Family Fang by Kevin Wilson
Rules of Civility by Amor Towles
Most of Jenny's titles are chick lit or historical fiction, but if you have questions about what any of them are leave them in the comments and I'll try to figure it out.
One of my favorite things about clearance book sales is checking out which books are most common. I saw a strangely high number of copies of The Hour I First Believed by Wally Lamb and, to no surprise, many copies of the Twilight series and Nicholas Sparks' novels. There were also a lot of copies of The World Is Flat by Thomas L. Friedman (I found a nice copy of that one).
Now that I've added 15 more books to my towering TBR shelves, I need to go on a book buying diet for the rest of the year… the books are starting to take over my house!