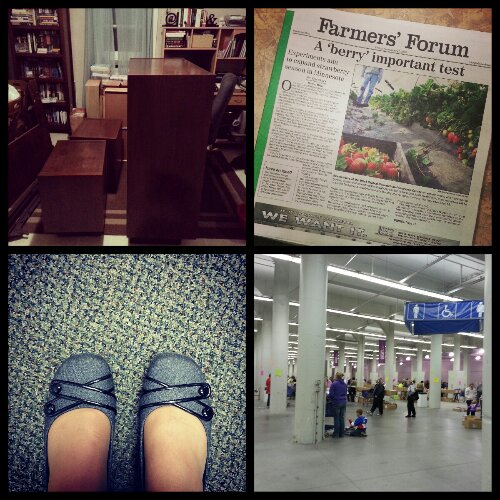 I missed checking in last Sunday and yesterday because I've been traveling every weekend and sometimes it just doesn't make sense to try and come up with a post when I'm off doing something else. Last weekend I was up at a cabin with five of my best friends from high school which was just amazing and reinvigorating. It's nice to spend time with people who really know you and love you anyway. Yesterday I was out having clearance book sale adventures with my sister in the Twin Cities (more information on that later this week), then driving home. I am traveling again next weekend, then I have a weekend at home. Woo!
Time // 7:25 a.m.
Place // My office
Eating // Chobani Greek Yogurt
Drinking // Blood Orange Cinnamon Tea
Reading // Since my last update two weeks ago I've finished a grand total of… two books! The first was Cat's Eye by Margaret Atwood and the second was Five Days at Memorial by Sheri Fink. They were both amazing in their own ways and really do represent the different genres that I love to read. I'm hoping I get my review-writing mojo back soon so I can tell you about Fink's book, especially.
Since I just finished a book last night, I'm really not sure what I will pick up next. I'm leaning towards starting a few November releases to decide which one I want to read completely for Bloggers Recommend next month. At the moment I'm considering Princesses Behaving Badly by Linda Rodriguez McRobbie and Anything That Moves by Dana Goodyear.
Watching // I'm embarrassed to admit that I've let myself get sucked into Dancing With the Stars. I'm not embarrassed to admit that I'm loving a ton of network sitcoms: Parks and Recreation, Brooklyn Nine Nine, New Girl and The Mindy Project, especially.
Blogging // Last Friday I posted about my reading in September and some plans for October. Since I finished Five Days at Memorial yesterday night, I'm one-third of the way through my listed reading plans for the month!
Surveying // Are you a current or former book blogger? If the answer is yes, please take a minute to fill out the book blogging survey that Shannon (River City Reading), Jennifer (Literate Housewife) and I put together. I'll be open until this Friday. We're already at almost 300 responses, but we want to keep going and get as many as we can.
Wanting // I could really use another bookshelf, but our house really isn't big enough for one. #bookaddictproblems
Loving // We got a hand-me-down bedroom set from my grandma, that we finally got moved in and organized last week (for awhile it was all sitting downstairs in my office…). It feels weirdly grown up to have furniture that matches. I also recently rediscovered a favorite pair of gray shoes that I forgot I owned. I also had a story I wrote picked up in a pretty big publication, which was exciting!
Hating // The weather took a definite fall-like turn this week. While I'm excited for boots and sweaters weather, seeing pictures of feet of snow just west of where I live was very distressing.
Anticipating // My sister and I have tickets to go see Wicked next Sunday night. I can't wait!