Disclosure: I use Grammarly for online proofreading because typos are embarrassing for someone who gets paid to fix them in real life. This post is sponsored by Grammarly, but content and opinions are my own.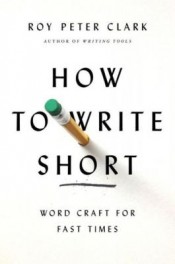 Title: How to Write Short: Word Craft for Fast Times
Author: Roy Peter Clark
Genre: Nonfiction
Year: 2013
Publisher: Little, Brown
Acquired: From the publisher for review consideration
Rating:





Review: There seem to be two broad personalities on Twitter: those who tweet with abandon, and those who carefully compose and edit each 140-character missive. While most of us probably fall somewhere in the middle — choosing words at some times, dashing off a quick reply in others — there's a lot to appreciate about the work of a writer who takes time to, well, write, even in short bursts.
Although I love wonderful, long-form writing, I also admire the craft it takes to write a quotable (retweetable?) tweet, headline, blog post or profile. Those pieces of writing, although succinct, can be a huge challenge to get right. Given that my hobby and my job both involve writing and learning to write effectively in limited space, picking up a copy of How to Write Short by Roy Peter Clark seemed like an easy call.
How to Write Short is an (appropriately) slim book that focuses on the art of writing well in small spaces. Clark splits the book into two general themes: how to write short (rhetorical strategies for crafting short writing) and why to write short (the practical uses for short writing, historically and currently). In each brief chapter, Clark also offers what he calls "grace notes," short exercises or skill builders to practice noticing and analyzing short writing.
As someone who has studied writing in various forms for a long time (many college English classes, plus a master's degree in journalism), some of what Clark covered was familiar to me. But nearly as much was also new and presented in a different context. I loved the way that Clark used a variety of examples — everything from epigraphs to tweets to jokes — to help explain the different strategies that make short writing effective.
One of his best suggestions that I've already started is to create a daybook devoted to collecting and practicing short writing. I already carry a notebook around with my everywhere, but I've started a few pages dedicated to saving and thinking about my favorite quotes. I also liked his suggestion to pay closer attention to song lyrics for their lessons on writing short.
I'm also taking to heart one of his important rules, no dumping:
Whether the writing is formal or informal, whether it appears as a tome or a paragraph, the writer has the duty to perfect, polish, and revise, even if that work needs to be done in a minute or less.
If you want to write better and spend a lot of time writing short, How to Write Short would be a valuable addition to your library of writing resources.
Other Reviews:
If you have reviewed this book, please leave a link to the review in the comments and I will add your review to the main post. All I ask is for you to do the same to mine — thanks!