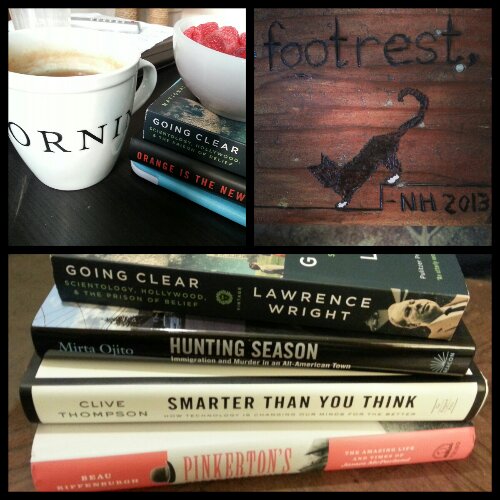 Time // 2:30 p.m.
Place // My desk
Eating // I just finished some chips and guacamole, which were delicious, and a box of raspberries that I splurged on at the grocery store.
Drinking // Cranberry Blood Orange Black Tea from The Republic of Tea
Reading // It's been a wonderful week for reading, although I haven't finished any books. I'm in the middle of several great reads, but since I keep switching between them I haven't managed to finish a single one. Here's what I'm working through: Breasts by Florence Williams, Going Clear by Lawrence Wright, In Praise of Messy Lives by Katie Roiphe, and Orange is the New Black by Piper Kernan.
And then there are all of the new books tempting me. I went on a bit of a book-buying being last week and picked up Hunting Season by Mirta Ojio (a look at "immigration and murder in an all american town") and Smarter Than You Think by Clive Thompson (a look at how technology is making us smarter). I also received a review copy of Pinkerton's Great Detective by Beau Riffenburgh, which will be out at the end of this week.
Watching // My desire to READ ALL THE THINGS wasn't helped by my desire to WATCH ALL THE THINGS yesterday afternoon. I caught up on the entire current season of Once Upon a Time (has that show gotten weird or what?) and rented a movie, The Way Way Back, last night.
Cooking // I have some barbecue pulled pork going in our slow cooker and plan to make some oven fries for later tonight. I'm excited!
Blogging // In addition to answering the first weekly question for Nonfiction November, I manged to post two reviews last week — Lean In by Sheryl Sandberg and Five Days at Memorial by Sheri Fink. Both books were truly excellent, so I hope you'll check them out.
Promoting // Nonfiction November is off to an amazing start! My co-host, Leslie at Regular Rumination, posted a wrap-up with 13 different posts about favorite nonfiction. I can feel my TBR growing already. I'll have the next discussion topic up tomorrow, so stop back!
Hating // I feel like I should just change this prompt to something about the weather, since now that Winter Is Coming I basically hate the outside all of the time. But for real, I'm hating that I impulse bought some donut holes at the store yesterday that are tempting me… I'm doing pretty well with Weight Watchers so far (down about six pounds and want to keep the momentum going!).
Loving // The boyfriend and I celebrated our five year anniversary on Monday. I left work a little early so we could go out to dinner at a fancy little Italian place and see a movie. For a present, he stained and customized a step stool for me (I'm short and can't reach anything our kitchen). The top picture is his etching of Hannah, our cat. It was such a sweet present.
Avoiding // I have like 100 unread e-mails to go through and (mostly) delete, as well as about a weeks worth of comments to catch up on. Procrastination, you are not my friend!
Anticipating // I'm trying to remain optimistic about the week ahead, but I've got a lot of personal and work obligations in the evenings that I am not entirely excited for. But that's ok, since there's another quite weekend at home waiting for me on the other side!
Happy Sunday, everyone! What are you reading today?