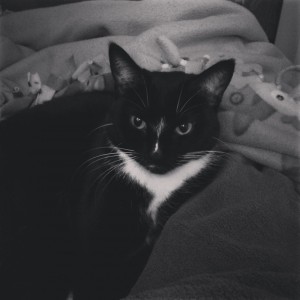 Time // It's about 2:00 p.m. on Sunday… probably the latest I've put up one of these posts since I switched to this format earlier this year. It's been a slow day. But in my defense (Do I really need to defend myself? No…), I have gotten all of my laundry done and vacuumed the floor in my office.
Place // My slightly tidier desk, in my much tidier office
Eating // Nothing for the moment, but I am excited to try the Chili Cheese Wheat Thins I impulse bought yesterday.
Drinking // Republic of Tea Apple Cider Tea (my current decaffeinated favorite)
Reading // Unfortunately, I had a hard time settling in to read (again) this week. Fortunately, that was because I was very busy, not because I wasn't reading anything good. I did manage to finish two books, Orange is the New Black by Piper Kerman and In Praise of Messy Lives by Katie Roiphe. I loved both of them.
I'm still in the middle of a couple of books, Going Clear by Lawrence Wright and Pinkerton's Great Detective by Beau Riggenburgh. I can tell that both of them are wonderful, but they're both slow reads. I'm in the mood for something quick, so I may switch it up this afternoon and try something lighter, maybe Paddle My Own Canoe by Nick Offerman or Smarter Than You Think by Clive Thompson.
Watching // The FOX Tuesday night comedy trio of Brooklyn Nine Nine, New Girl and The Mindy Project continues to delight me. I also love Sleepy Hollow and am finally caught up with Once Upon a Time. The previews for Almost Human are intriguing, but that may just be because I love Michael Ealy.
Listening // I need to start making time for audio books again. Since it got chilly (and I got lazy), I haven't been running or walking much, a key time for listening. I did go on a bit of a cleaning spree this weekend, aided by the sounds of my pop rock station on Pandora.
Making // Last Sunday I made barbecue pulled pork in our slow cooker which was divine. We're still trying to finish it up. I was going to make some quick Indian food tonight, but the boyfriend is stuck working a double shift and it seems a shame to cook just for me.
Blogging // In addition to my post on time/productivity books, I also posted a review of a book I thought was great, The Distraction Addiction by Alex Soojung-Kim Pang. If you like science/philosophy books and want to learn more about maintaining focus while still embracing technology, I highly recommend it.
Promoting // Nonfiction November has been amazing so far. I still can't believe how many people wrote up posts for week two, be the expert. I'm so excited to see what people come up for this week's discussion topic, pairing fiction and nonfiction.
Hating and Loving // I have a new gym buddy who has been getting me out to a weight-lifting class a few times a week. Today my butt and back sort of hate me for that, but it's a nice change of pace and I'm glad to have some peer pressure to get to the gym more frequently.
Avoiding // The one chore I have to get done this weekend is cleaning the litter box… which I don't want to do!
Anticipating // My sister is coming to visit me next weekend and we're going to go see Catching Fire. I can't wait! I'm also getting excited for the holiday season. Thanks to some tips Jenny (Reading the End) posted last year, I have ideas for nearly everyone on my list already. Huzzah!