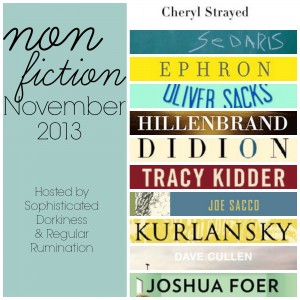 As a brief kickoff to Nonfiction November, I thought I'd share a couple of lists — nonfiction I've read but not reviewed so far this year, and nonfiction I'm thinking about reading this month.
Read But Unreviewed
When I went to start putting this list together, I was worried that it was going to be embarrassingly long. Turns out, it's not quite as bad as I thought, only 10 books behind. Granted, this doesn't count all of the fiction I haven't bothered to review yet… but I'm not going there this month!
Fink, Sheri: Five Days at Memorial
Goodyear, Dana: Anything That Moves
Bissell, Tim: Extra Lives
Valenti, Jessica: Why Have Kids?
Sandberg, Sheryl: Lean In
Pang, Alex Soojung-Kim: The Distraction Addiction
Brosh, Allie: Hyperbole and a Half
Rybczynsk, Witold: Last Harvest
Glei, Jocelyn: Manage Your Day-to-Day
Allen, David: Getting Things Done
In the Queue
This is definitely not a comprehensive or definitive list of books I'm thinking about picking up this month, just a snapshot of some of the books that are pulling at my attention right now:
Breasts: A Natural and Unnatural History by Florence Williams, a medical, anthropological, journalistic look at "how our breasts went from being honed by the environment to harmed by it."
This is the Story of a Happy Marriage by Ann Patchett, a collection of essays on family and writing.
In Praise of Messy Lives by Katie Roiphe, a collection of essays on life, literature and pop culture.
One Summer by Bill Bryson, a look at one world-changing summer in America.
Smarter Than You Think by Clive Thompson, a look at the ways technology can make us better.
Going Clear by Lawrence Wright, an in-depth investigation into the world of Scientology.
Princesses Behaving Badly by Linda Rodriguez McRobbie, a look at some of the trials and tribulation of real life princesses who didn't always have fairy-tale endings.
I'm not entirely sure what I'll get to this month — reading or writing wise — but it's nice to have some lists out there to feel like I'm getting organized. Any recommendations for books I should definitely read or write about this month?