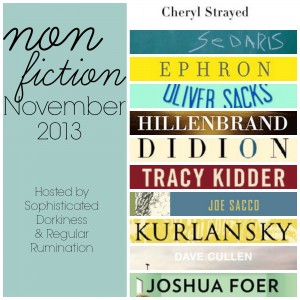 Welcome to the first official week of Nonfiction November, a month-long celebration of nonfiction I'm co-hosting with Leslie of Regular Rumination!
Throughout the month, we'll be reading and writing about nonfiction, and encouraging other readers to join us through a series of post topics. The first topic should add a ton of books to your TBR pile:
Nonfiction Favorite(s): What is your favorite piece of nonfiction? Or, if you can't pick just one, share several of your best nonfiction reads.
The piece of nonfiction that I most often recommend to other readers is The Spirit Catches You and You Fall Down by Anne Fadiman, one of the best pieces of literary journalism I've ever read.
The book tells the story of a cultural clash between a small hospital in California and a family of Hmong refugees from Laos over the best way to care for a four-year-old girl, Lia Lee. When she was a baby, Lia was diagnosed with epilepsy. Although both her family and doctors wanted her to get better, they disagreed about the course of care and about how to implement treatments. Eventually, a seizure was so bad it left Lia in a vegetative state until she passed away in 2012 at the age of 30.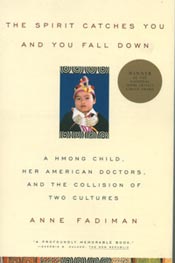 It's an absolutely heartbreaking, frustrating, touching story. What struck me the first time I read it was how careful Fadiman was to make it clear that there are no villains here, just good people forced into difficult circumstances with even more difficult decisions. There are certainly ways in which the family and medical professionals could have done better, but Lia's eventual medical outcome wasn't a result of malpractice or neglect. It was just a tragedy.
I haven't re-read the book since about 2009 when I first picked it up, in part because I don't make time to re-read very much and in part because I'm a little worried by evangelizing about the story has built it up so much in my head it may not stand up to the weight. I don't think that's the case, but who knows. I just know that the first time I read this book it felt like a little switch in my brain had been flipped. And it helped give me a perfect example of the kind of contemporary, journalistic, narrative nonfiction that falls into my sweet spot.
If you haven't read this book, I highly encourage you to pick it up.
With that, I'll end with a couple of programming notes:
This week, Leslie will be doing the wrap-up this Friday, so please go visit her post to leave links to both your discussion posts and any nonfiction reviews you post this week. All of those posts will be entered in our prize drawing at the end of the month.
Reading a lot of exclusively nonfiction for the month is definitely not a requirement of participating. It's what Leslie and I hope to be doing, but it's totally optional. I think that was clear in the first posts, but just wanted to mention it for emphasis!
If you're talking about Nonfiction November on Twitter, please use the hashtag #nonficnov for your posts so we can find them. Happy reading!