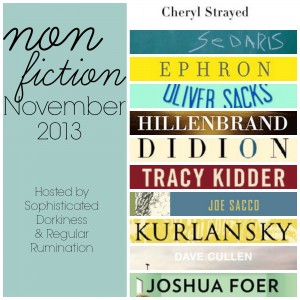 Happy Friday! Week two of  Nonfiction November, a month-long celebration of nonfiction I'm co-hosting with Leslie of Regular Rumination, has come to a close.
Thank you so much to everyone who's embraced the event and decided to participate, as well as the readers who have been out checking on each of the posts and leaving their comments. The participation so far has exceeded even the wildest expectations I had for this month.
Here's a quick wrap-up of all the posts that were submitted. I think I've read and commented on them all, but if I missed yours I sincerely apologize!
First up, many people shared their expertise on a variety of topics:
This week we also has a few shared reviews:
Thank you, thank you, thank you to everyone who has participated this week. If you haven't checked out these posts, please do — there are a ton of great books to learn about.