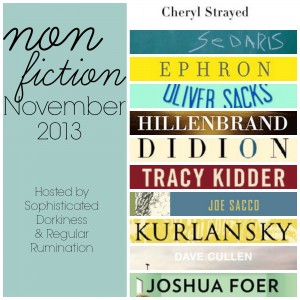 Welcome to the final week of Nonfiction November, a month-long celebration of nonfiction I'm co-hosting with Leslie of Regular Rumination! Throughout the month, we've been reading and writing about nonfiction, and encouraging other readers to join us through a series of post topics.
I'm feeling a little bummed this is the last week of the month. It's been incredibly fun to connect with some new bloggers and check out the posts everyone has been writing. This week we're asking participants to reflect back on the month a bit and give a boost to some new nonfiction you're excited about:
New to My TBR: What nonfiction have you added to your toppling TBR pile this month? Be sure to credit which bloggers you heard about titles from (if you can remember)!
I don't know about you, but I've added a bunch of books to various wishlists. I tried to pare it down to just a few of my favorites, but know that there are many more out there:
Before we get to the Mr. Linky, a couple of housekeeping notes:
I'm hosting this week, so add your posts to the Mr. Linky below and I'll be back with a wrap-up of sorts at the end of the week (maybe Saturday because of the holiday).
If you're chatting about nonfiction on Twitter, use the hashtag #nonficnov.
THANK YOU to everyone who has participated. I haven't talked to Leslie yet, but I think this is something we would like to host again next year. If you have any feedback or suggestions, please do let us know.