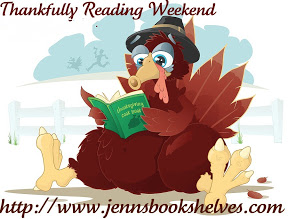 Happy Wednesday Before Thanksgiving! Can this be a holiday too?
I decided not to travel for Thanksgiving, which means I'll have plenty of time to participate in Jenn and Jennifer's Thankfully Reading Weekend. It's already been a long week, so I can't wait for a quiet weekend of reading and eating (aside from when I have to work on Friday).
I've set aside a few books especially for this weekend:
The Golem and the Jinni by Helene Wecker because I love some good historical fantasy
Radioactive by Lauren Redniss because my mom gave it to me for Christmas last year and I think I should read it before this Christmas
Hunting Season by Mirta Ojito because I need to read some good journalism
I've also started a few books this month I haven't finished that I may grab including Going Clear by Lawrence Wright and Pinkerton's Great Detective by Beau Riffenberger. We'll see how the weekend goes!
What are your plans for this holiday weekend?