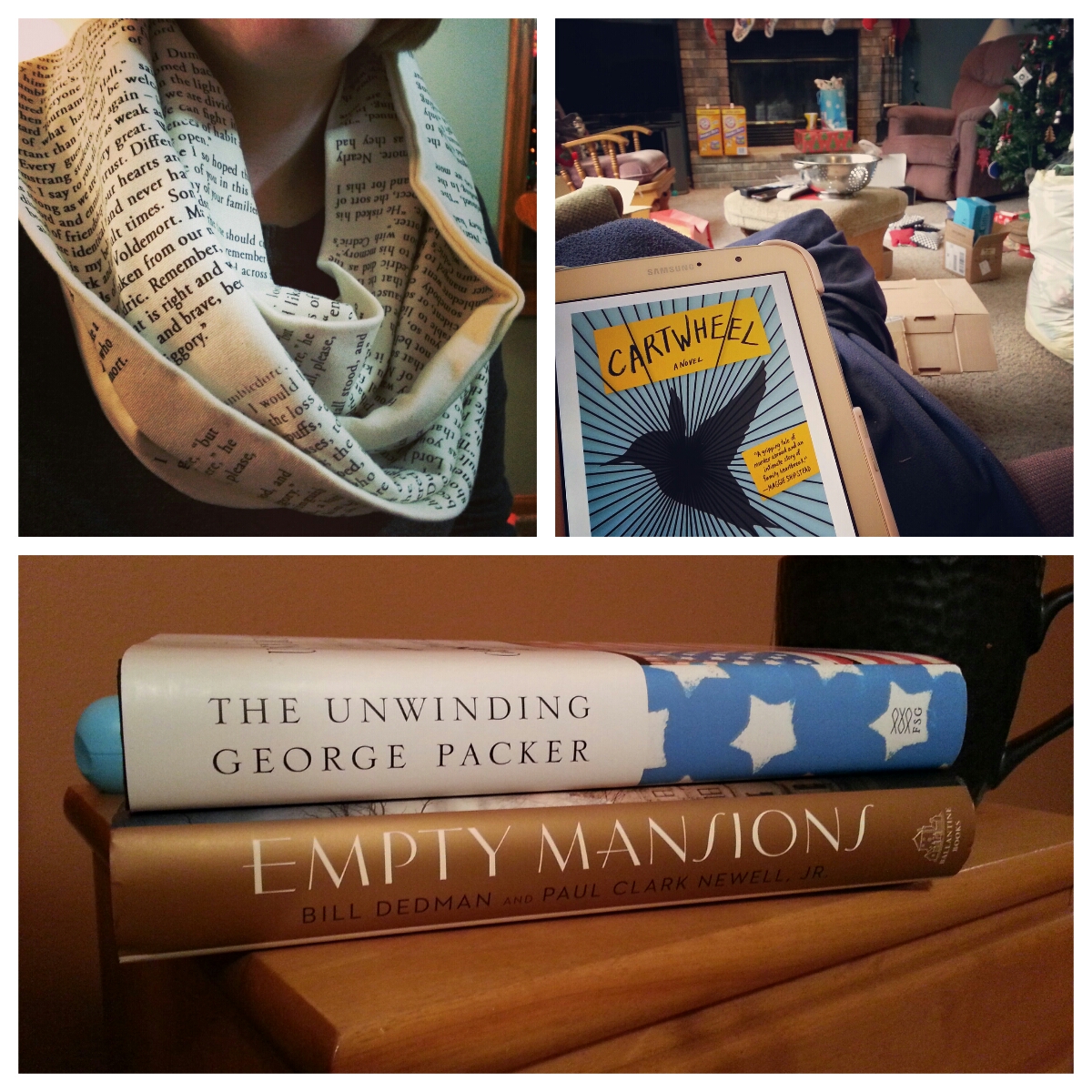 Time // 8:30 p.m. on Sunday
Place // My armchair with a cup of tea by my side and a football game on the television.
Reading // Despite my incredible optimism that I would read all the books over my Christmas break, I only managed to finish two: Priscilla by Nicholas Shakespeare (Jan. 15 from Harper) and Cartwheel by Jennifer Dubois. That puts me at 104 books for the year, just a few shy of the 110 books I read last year.
Enjoying // I had a wonderful Christmas visiting my family and seeing many close friends. All the celebrating can be exhausting, but so worth it.
Opening // Although I got a bunch of great presents, my favorite bookish present was from my sister: a custom-printed infinity scarf with the text of Dumbledore's "Remember Cedric" speech from Harry Potter and the Goblet of Fire. It's one of my favorite parts of the series. I also received two books this year — Empty Mansions by Bill Dedman and Paul Clark Newell Jr. and The Unwinding by George Packer — but that is more than OK since one of my big goals for the year is going to be getting my book collection under control.
Blogging // If this week goes smoothly, my plan is to do a look back at 2013 in bookish stats on Wednesday and a look forward to goals for 2014 on Friday. But the way my evenings have been going, I have no idea how feasible that will be!
Feeling // Cold! It's crazy chilly here in Minnesota. We also keep our house pretty cool to keep our electric bill down, so I've got the blankets piled on.
Loving and Hating // I bought a couple new pieces of furniture with Christmas money. I am excited about how they are going to help organize my office, but I hate how messy things seem to get before they can be put back in order!