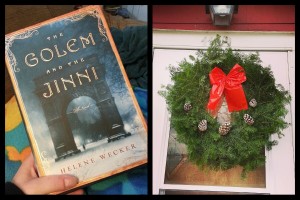 Time and Place // 10:00 a.m. at my (increasingly messy) desk. I need a new desk, badly, that has better storage options (hint hint, Santa).
Consuming // I haven't had breakfast yet, just some black tea.
Reading // Despite good intentions about participating in Thankfully Reading Weekend, I actually haven't gotten much reading done the last few days. I did start and finish The Golem and the Jinni by Helene Wecker, which puts me at 99 books finished this year. My goal every year is 100 books, so this is exciting!
That said, I'm not sure what book 100 will be. I started reading Woke Up Lonely by Fiona Maazel last night, but I might put that aside to read Radioactive by Lauren Redniss instead. That seems like a good book for book 100. After that, I'm not sure what my reading plans will be — probably picking up some backlist titles before the 2014 releases start popping up.
Aside: Can you believe it's December 1 already? I can't!
Watching // The boyfriend and I started watching Deadwood, which we're enjoying despite the difficult-to-follow dialogue. I've also been working through The 4400, which I think I'll finish before the year is out. I'm embarrassingly excited for The Sing Off to start next week too.
Decorating // I'm honestly not much for decorating for the holidays, but I did put up our Christmas wreath yesterday and pull out some of the little figurines and stuff I have for the holidays. I think it's enough for us.
Blogging // Last week was the final week of Nonfiction November — participants shared some of the books they added to their to be read piles over the month. With the holiday (and having to work on Friday), I didn't get a wrap-up done, but I'm planning something for tomorrow.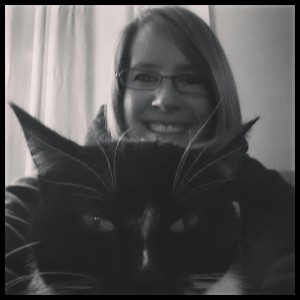 Loving // Now that it's chilly outside, Hannah has been more cuddly! She's a persnickety cat, so any time she wants to sit on my lap for extended periods of time makes me happy. Here's a gratuitous Hannah and Kim selfie for your enjoyment.
Avoiding // I need to go to the grocery store today. Normally I don't mind grocery shopping, but today I feel lazy.
Enjoying // One of my projects yesterday was organizing our pantry — I'm so happy with how much better it looks now that I cleared out some old food and corralled a lot of the loose things into some baskets. Simple solutions.
Wanting // I really want a new desk for my office. I bought the one I have now for $30 on Craiglist several years ago and it's just not doing it for me anymore. I want something with more enclosed storage so it feels less cluttered.
Anticipating // December is going to be such a fun and busy month! Over the next four Saturdays I have two Christmas parties, a wedding, and a family Christmas celebration. It's going to be wonderful and full and fun. I don't know what's going to happen with the blog during all of that other stuff, but I know I have some things to say. I've got quite a backlog of books to review, in any case — I just need to find time to review them!
Happy December! What are you reading today?