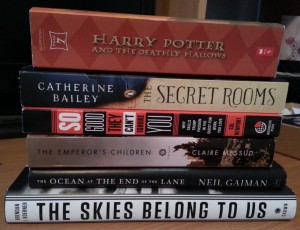 As I mentioned last Sunday, I am taking all of next week off from work. Well, mostly off work. I don't have to go into the office but, depending on how much work I get done today, I may have to do some writing and editing from home.
That said, a few hours of work from home in my pjs is going to be a lot more relaxing than heading to the office… and I should have plenty of time to get some reading done!
I started putting together a list of the books I wanted to read over my Christmas break. At the longest, it was 18 books long… way too many to pack in my car with my suitcase, Christmas presents, and cranky cat. After some serious self-talk about how much time I'd actually have to read, I managed to pare the list down to six books. Here's what I'll be choosing from this week:
Harry Potter and the Deathly Hallows by J.K. Rowling because I want to finally finish out my Harry Potter re-read.
So Good They Can't Ignore You by Cal Newport because I'm excited to read about a different idea about success at work.
The Ocean at the End of the Lane by Neil Gaiman because it's on so many favorites list for this year.
The Secret Rooms by Catherine Bailey because I can't resist "a true story of a haunted castle, a plotting duchess and a family secret."
The Emperor's Children by Claire Messud because I really want to read Claire Messud.
The Skies Belong to Us by Brendan Koerner because I want to read about skyjacking.
After all of that, who knows what I'll actually be reading this week. I'm hoping I'll get a few books off my wish list from Santa! With that, I'm out of here until late December. Enjoy the holidays and I'll see you on the flip side! (Nerd alert!)