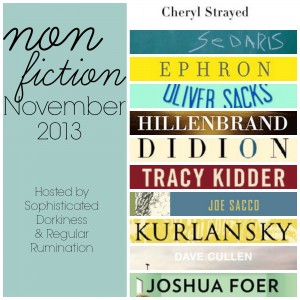 I'm a little late with this last post for Nonfiction November, a month-long celebration of nonfiction I co-hosted with Leslie of Regular Rumination! Throughout the month, we read and wrote about nonfiction, encouraging other readers to join us through a series of post topics.
Everyone should give a big round of applause to Leslie, since most of this month was her idea. I was just lucky enough to be asked to partner up on the project. We're both really happy with how it went, and leaning heavily towards hosting again next fall .
Instead of doing a wrap-up of the posts for week four's topic, which were all about new books participants have added throughout the month, I thought I would pull together all of the topics and wrap-ups in one place:
If I did my math correctly, we had 69 different posts linked up during the month. I didn't count the total number of participants, but I know it was more bloggers than either Leslie or I expected. So thank you all for your enthusiasm this month — it's been great. And if you have any suggestions for a future iteration of Nonfiction November, please leave them in the comments.