Because I'm a giant nerd, I love putting together a post of bookish statistics at the end of the year. What struck me as I was working on this post is how incredibly similar my reading year looked when compared to 2012 (and somewhat to 2011). Seriously, it's downright eerie how consistent I've been over a three year period.
The Basics
104 books read (110 in 2012 | 109 in 2011)
33,839 pages read (34,883 in 2012 | 34,127 in 2011)
104.5 hours listened (93.5 in 2012 | 58 in 2011)
650 pages per week (671 in 2012 | 656 in 2011)
93 pages per day (96 in 2012 | 93.5 in 2011)
I've been seriously keeping track of the books I read in a spreadsheet since sometime in 2011, so I'm starting to get some interesting data over time. Looking at some of these numbers, I think it's fair to say my reading has remained remarkably consistent (even when it feels like it's slowing down). Some other numbers of note:
Longest Book: Harry Potter and the Order of the Phoenix by J.K. Rowling (870 pages). Other long books were The Goldfinch by Donna Tartt (771 pages) and Harry Potter and the Goblet of Fire by J.K. Rowling (734).
Shortest Book: Not including graphic novels, the shortest book I read this year was We'll Be the Last Ones to Let You Down by Rachael Hanel.
Most Common Book Length: 288 pages (9 books)
Oldest Book: All the President's Men by Carl Bernstein and Bob Woodward (1974)
Books Published in 2013: 55 of 104 (52 percent)
Author Gender: 

60 female authors, 43 male authors
Books by Genre
Yay, charts! This first chart shows my fiction versus nonfiction for the year. Of the 104 books I read this year, 46 were fiction (44 percent) and 58 were nonfiction (56 percent).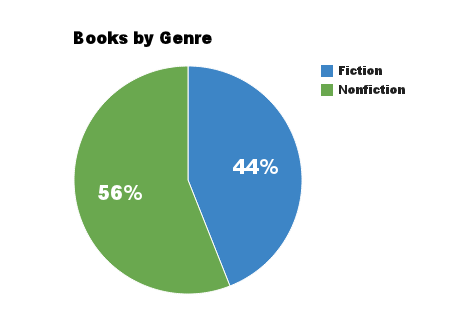 Weirdly enough, this is the exact same percentage breakdown I had in 2012, despite reading slightly fewer books this year. I am even more consistent than I thought!
Books by Acquisition Type
One of my general goals every year is to balance review copies with other sources for reading material. Of the 104 books I read this year, 48 were review copies (46 percent), 15 were borrowed from the library or friends (15 percent) and 41 were from my own shelves (39 percent).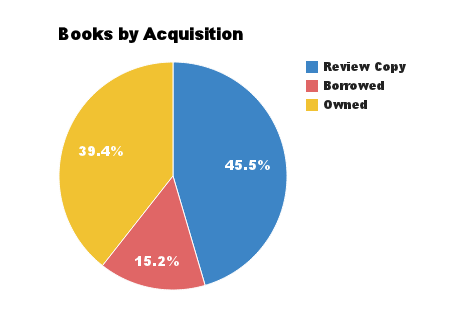 This is a pretty good balance for me, although in 2014 I would love to see the books from my own shelves eclipse review copies.
Books by Format
Another thing I keep track of is what format I read books in. Over the last few years, I've been trying to increase the number of ebooks and audiobooks that I read. This year I read 34 hardcovers , 32 paperbacks, 19 Advanced Review Copies, 10 ebooks and 9 audio books.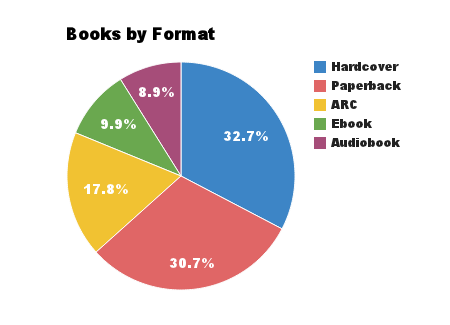 In 2012 I only ready 2 ebooks and 7 audiobooks, so I'm happy to see an increase there! Otherwise, those numbers look pretty close to what I've read in the past — fewer paperbacks this year, but that's probably because I've increased the number of ebooks.
So there you have it, a look at some statistics about my reading in 2013. Now that it's the new year, I'm excited to start thinking about what my reading in 2014 will look like!