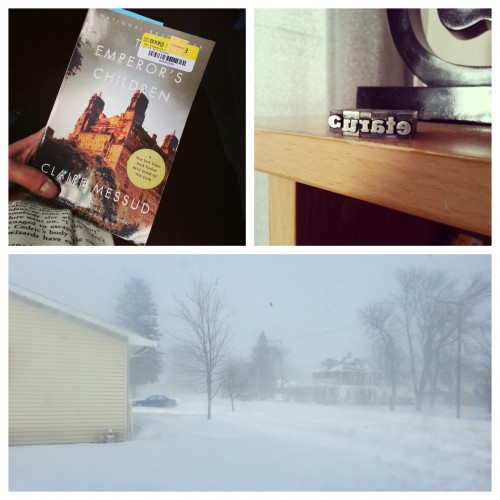 Briefly // The weather has managed to throw wrenches into my plans twice this week. I was supposed to drive to Minneapolis on Wednesday afternoon for the Minnesota Newspaper Association convention, but a blizzard warning all day kept me at home until Thursday morning. I was planning to stay until Sunday — hanging out with friends and family — but a blizzard warning today prompted me to head home last night. While that leaves me with an unexpected Sunday to myself, I'm disappointed I missed time with people I care about. Welcome to winter in the country.
Time and Place // 1:45 p.m. at my desk in Morris
Eating and Drinking // Freeze dried pineapples and some peach black tea
Reading // I got very little reading done this week, but I did manage to finish The Emperor's Children by Claire Messud this morning. I have to think a bit about what I want to say about it, but it was definitely a good read. I'm not sure what I'll pick up this afternoon — perhaps Marketplace of the Marvelous by Erika Janik for a paid review or Days of Destruction, Days of Revolt by Chris Hedges and Joe Sacco because Chris Hedges is scheduled to give a convocation at the local university on Tuesday.
Watching // I finished the first season of Arrow and have started making my way through the second season. My sister also informed me that Veronica Mars is available on Amazon Prime… so I may switch to a rewatch of that show!
Listening // I started Paddle Your Own Canoe by Nick Offerman (I almost wrote "Ron Swanson" there…) on one of my drives this weekend. It's pretty great, if you're into Libertarian politics and don't mind a liberal amount of cursing, but also a little disjointed.
Blogging // I didn't mean to fall off the blogging bandwagon last week, but the weather and traveling ruined the plans I had to write during the week. I'm hoping to use much of this afternoon to write ahead a few posts, but since I'm not traveling at all in February I think it'll be a better month.
Promoting // Cindie at Nonfictionado is hosing a President's Day Reading Challenge, which sounds so fun! Since she's also opened up the challenge to books about world leaders, I'm thinking about reading Elizabeth the Queen, a biography of Queen Elizabeth II by Sally Bedell Smith that I bought last year.
Hating // The weather, obviously. The view from my living room is depressing.
Loving // I've been working to finish up my journaling and thinking about my One Little Word for this year. To keep my word visible, I ordered some letterpress stamps that are sitting on my desk. I love them.
Avoiding // The outside?
Anticipating // Although I love the things I get to do in January, I'm excited that I will be home more on February. I feel like it's going to be a month of getting settled and really focusing on the routines I want to build for this year.
Happy Sunday, everyone! What are you reading today?