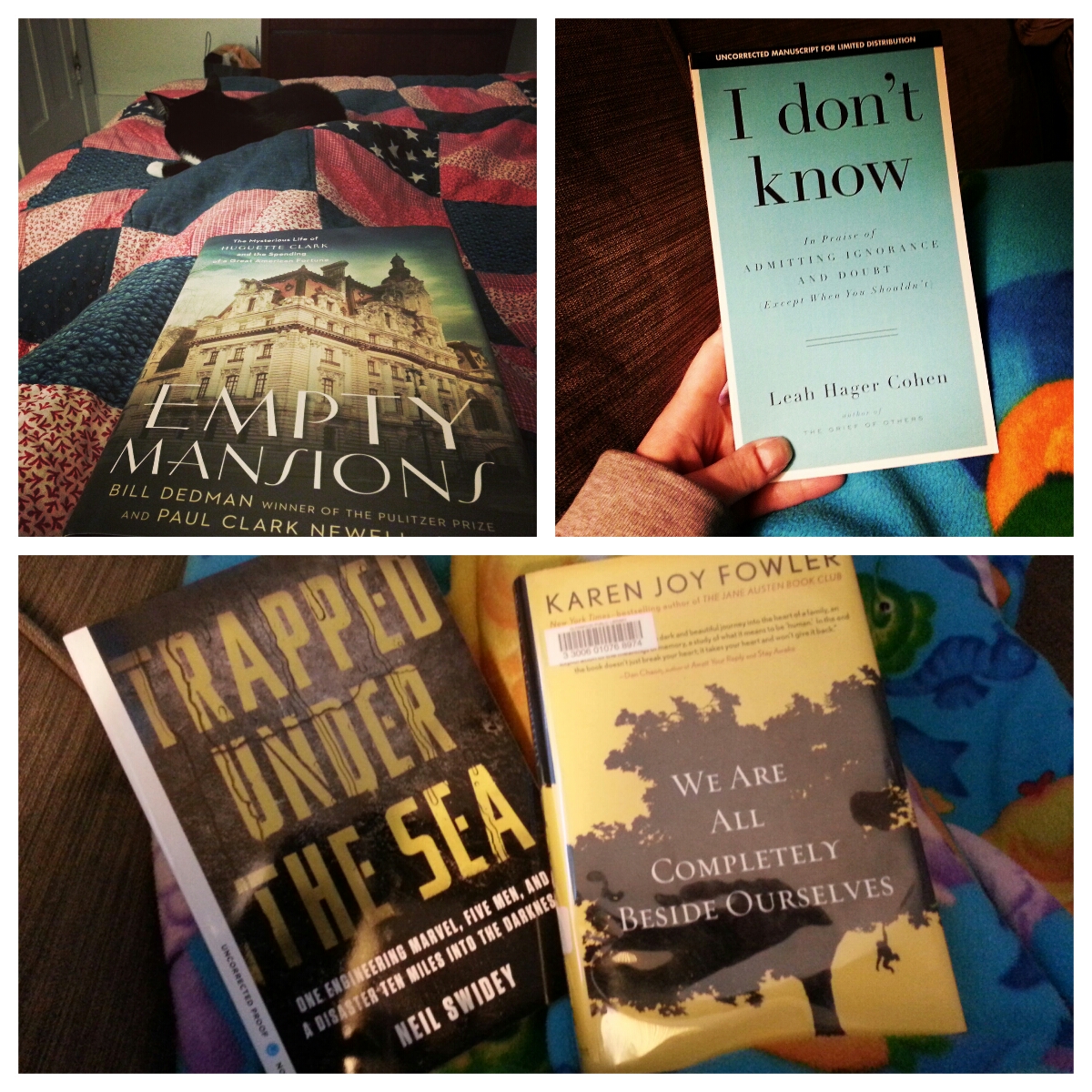 Time // 11:15 a.m.
Place // My desk in my updated office, which now includes an Expedit shelf and Alex chest of drawers from IKEA. A week from now it will also have a new wireless printer that I got for Christmas.
Eating // Fruit snacks! I'm mostly biding my time until I can eat lunch, homemade chili.
Drinking // A new tea blend, Republic of Tea's holiday spice blend, Comfort and Joy.
Reading // I kicked off the new year with a great week of reading. I finished three books: I Don't Know by Lean Hager Cohen, Empty Mansions by Bill Dedman and Paul Clark Newell Jr., and We Are All Completely Beside Ourselves by Karen Joy Fowler. This morning I started another book, Trapped Under the Sea by Neil Swidey (February 18 from Crown). They've all been great so far, which I hope means good things for my reading in 2014.
Watching // As a result of the holiday hiatus, I finished watching the final, six-episode season of Nikita and started watching Arrow, a CW superhero show that my sister recommended. I didn't love the way Nikita had to wrap up so quickly, but I'm glad the characters got a thoughtful send off. Arrow is ok so far, but I am excited that my favorite shows are coming back. The boyfriend and I really liked the new episodes of Community, and I'm looking forward to Parks and Recreation, New Girl, Brooklyn Nine Nine and Sleepy Hollow.
Listening // I'm in love with the playlists for every mood that Spotify recently added. The Mood Booster list is perfect for staying upbeat when doing boring things like washing dishes.
Blogging // Last week was very heavy on posts about blogging, including a look back at my reading stats for 2013 and a look forward to my plans for 2014, tackling my unread books. This week, I'm hoping to get a couple of reviews posted — depends how much I can get written today!
Promoting // Yesterday I posted about another year-long workshop I joined, One Little Word by Ali Edwards. Choosing a word — curate — and working on the prompts for January have really helped solidify the direction I want to go in 2014. I'm really excited about this project.
Hating // I'll give you one guess… if you guessed "the weather" you are correct! It's so cold in Minnesota that the governor cancelled school state-wide for tomorrow. That hasn't happened since 1997. Le sigh.
Loving // I organized my shelf of review copies this week and I am so happy to have that project done. I'd let it slide a bit in the end of 2013, but this year I pledge to be more organized!
Avoiding // I need to do the dishes… and I don't want to.
Anticipating // This week is one of my favorite weeks of the year, Youth in Government! YIG is a program I've been involved with since I was a high school student. Every year in January about 1,500 kids gather in the Twin Cities to put on a mock legislative session. I work with the students in the Youth Secretary of State's Office, and we have a great crew this year. I leave for YIG on Wednesday night and will get back home, exhausted, sometime on Sunday night. It's a ton of work, but so rewarding to give back to a program that gave me so much when I was a teenager.
I could gush about YIG all day… but I won't. Happy Sunday, everyone. What are you reading today?