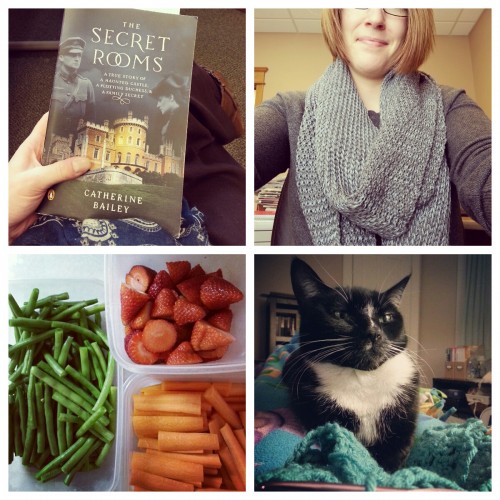 Time and Place // 10:50 a.m. at my desk
Eating // Shredded wheat (I have a strange fondness for this cereal) with strawberries
Drinking // Peach black tea, as part of an effort to drink up my existing tea collection before I buy new flavors.
Reading // After an initial reading binge to start out the year, my reading pace has slowed down quite a bit. Since I last checked in earlier this month I finished Trapped Under the Sea by Neil Swidey (February 18 from Crown) and The Secret Rooms by Catherine Bailey. The Secret Rooms, which I'm hoping to review this week, started out awesome, but faltered a bit near the end — probably a 4 out of 5 star read in the end.
This week  I started reading The Emperor's Children by Claire Messud, which I'd been toting around, intending to read, since Christmas. I'm also hoping to start a couple of nonfiction read this week — Marketplace of the Marvelous by Erika Janik for a paid review and Cairo by Ahdaf Soueif, which I received for review last month. But I'm traveling (again) this week, so who knows how much reading I'll actually get done.
Watching // The boyfriend and I are just getting to the end of season two of Deadwood, which I think we're both still enjoying a lot. The dialogue is a little hard to follow sometimes, but it's an oddly funny show in a lot of moments. I also watched the first two episodes of Enlisted, a new comedy on FOX, that I thought was charming. It's a family/workplace comedy about three brothers in the Army, a bit like of Brooklyn Nine Nine merged with Modern Family.
Listening // Paying for Spotify premium was, perhaps, the best music-related decision I've made in awhile. In addition to the curated playlists, I am head over heels in love with Home Free's first album, Crazy Life. Home Free is a country a cappella group that won season four of The Sing-Off. I'm totally charmed by them.
Cooking // In an effort to eat more healthy foods, I chopped up all my fresh produce when I got home from the grocery store on Friday night. I also made some awesome minestrone to help get me through the week.
Making // One of my intentions for the year is to deal with my yarn stash, either by completing half-finished projects or getting rid of the yarn I'm not going to use. To that end, I picked up a couple of almost completed scarves and started working on them last night. I might be able to finish one during the football games this afternoon.
Blogging // This week I shared a post about personal reading analytics and a review of Empty Mansions by Bill Dedman and Paul Clark Newell Jr. I haven't decided on plans for the blog this week. At the very least, I'm hoping to have a review of The Secret Rooms up soon.
Promoting // I really loved Andi's (Estella's Revenge) post on how to keep a sustainable blog. It's full of smart advice from someone who has kept a blog going for nine years (nine years!).
Hating // It'd be predictable for me to say the weather, so let's just move on from this prompt assuming that I hate winter in Minnesota. On the plus side, cold weather gives me excuses to bust out the super warm scarves in my collection, including a beautiful blue and gray one that the boyfriend's mom got me for Christmas. New for this week, I hate self-absorbed people. I had a string of frustrating back-and-forths at work this week that I'm hoping to not repeat for awhile.
Loving // I put in some work last night on the prompts and journaling for One Little Word, and I'm feeling really good about it. Just keeping my word — curate — in mind has helped me make some good choices this month and I'm excited to keep that momentum going.
Avoiding // I watched the first episode of the new season of Downton Abbey and… I'm just not that into it? The characters feel really static to me — they're so boring I can't get past it to just revel in the costumes and Maggie Smith of it all. Anyone care to convince me to keep watching?
Anticipating // I haven't gotten to watch nearly as much playoff football this month as I usually do. I got most of my chores done for the weekend, so I'm excited for an afternoon being lazy in front of the television.
Happy Sunday, everyone! What are you reading today?