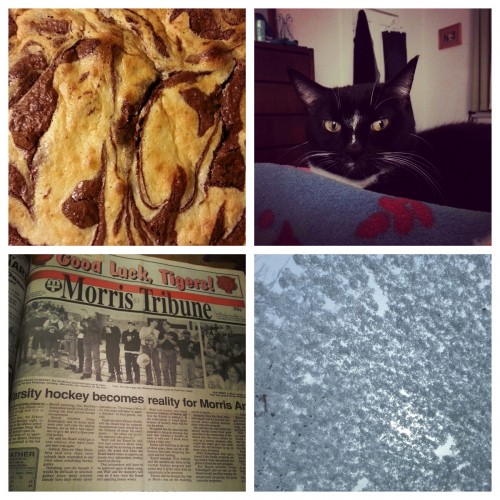 Time and Place // 8:20 a.m. at my desk at home (for the third weekend in a row!)
Eating and Drinking // A banana and black tea
Reading // After finishing four books in a single weekend, I spent most of this week with a chunkster (720 pages!) of a biography, Elizabeth the Queen by Sally Bedell Smith. I don't always love biographies (sometimes they are too dry for me), but I absolutely adored this one. I'm excited to post some thoughts on it this week. Last night I also finished Busted by Wendy Ruderman and Barbara Laker, a chronicle of how the two reporters exposed corruption in the Philadelphia police department and earned a Pulitzer Prize. I loved that one too! Again this week, I'm not sure what I will pick up next, maybe A Tale for the Time Being by Ruth Ozeki.
Watching // House of Cards is back! I can't believe the end of the first episode… but that's all I'll say about it.
Listening // My (embarrassing) favorite song at the moment is "Timber" by Pitbull and Kesha. It's the first song I pick every time I'm listening to Spotify's Mood Booster playlist.
Making // I tried a new recipe for cream cheese brownies last weekend and they turned out amazing. I am already craving more.
Blogging // This week I shared a little more about the Harry Potter scarf my sister got me for Christmas and linked to a podcast where I was interviewed. This week, I'm hoping to have two reviews, one of Elizabeth the Queen and one of Trapped Under the Sea by Neil Swidey, which is out on Tuesday.
Hating and Loving // Bonus points if you guessed I was going to say "weather" for this one! We had an unexpected blizzard on Thursday (no warning for forecasters, it was so strange), but then it warmed up to like 26 degrees yesterday. That was amazing. I'm hoping the "warm" temperatures we've been promised for the week actually materialize.
Loving // I got to spend a little bit of time this week digging back through the archives at the newspaper where I work doing research for news story. It's always really fun to see little bits of history through those stories.
Anticipating // I have another crazy busy week at work, but I'm excited for most of the things that are already scheduled . And evenings this week should be a little less hectic, which is definitely a blessing.
Happy Sunday, everyone! What are you reading today?