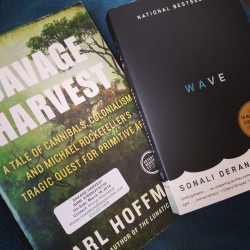 Briefly // This post is getting up awfully late on Sunday because I spent the entire morning cuddled up on my couch with a couple of great books. That was the best way I could have spent Sunday morning, although perhaps not the best use of my time.
Time and Place// 1:30 at my desk
Eating and Drinking // Mediocre strawberries and enjoyable black tea
Reading // I finished four (four!) books this week: Marketplace of the Marvelous by Erika Janik, Savage Harvest by Carl Hoffman (March 18 from William Morrow), Wave by Sonali Deraniyagala, and Attachments by Rainbow Rowell. It seems like a lot, but I've been slowly working on two of them for a couple of weeks and finished two in a binge this morning. I'm honestly not sure what I'll pick up next.
Watching // The Olympics! I'm not ashamed to admit that I'm one of those people who gets into the Olympics. I love learning these little stories about the athletes and getting to participate, however superficially, in these moments they've worked so hard to achieve. It's fun. The boyfriend and I are also whipping through the first season of Orphan Black… so good!
Listening // At the moment, I'm digging the Your Favorite Coffeehouse playlist from Spotify.
Making // Before he left for work this morning, the boyfriend got a craving for cream cheese brownies, so I might head out to the grocery store in a bit to pick up ingredients for those. That all depends if I can force myself out of my (relatively) warm house into the frigid outside temperatures.
Blogging // I put up two posts last week, a reading list for books about sleep and a review of The Undercover Economist Strikes Back by Tim Harford. But my real life was totally hectic, so I'm super behind on responding to comments… sorry!
Loving // Despite it being a crazy hectic week, I made it to the gym three times. I feel good about that.
Avoiding // I need to clean the litter box today which is truly one of my most hated chores.
Wanting // I'd love to find someone who can write a bunch of posts for me, vacuum my living room, and make dinner. I'll pay them in books.
Anticipating // The possibility for my next read is totally open, and I am really excited about that. I have a few books I should read, but I think I'll probably pick something random from my personal stacks just for fun.
Happy Sunday! What are you reading today?