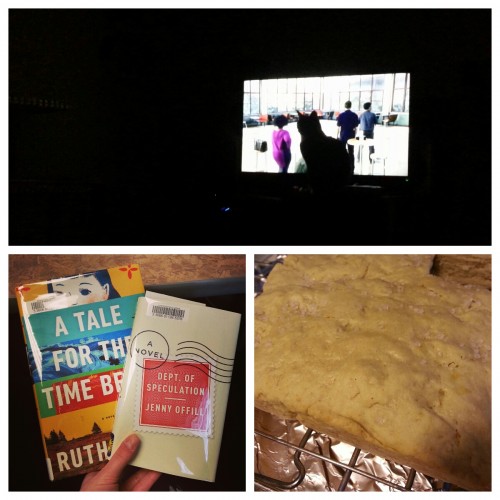 Time and Place // 9:00 a.m. on my couch, although I will have to switch to the computer soon.
Eating and Drinking // Chobani Peach Greek yogurt and black tea
Reading // I had a slow reading week. I'm in the middle of a book about the history of "irregular" medicine (think early herbalists and phrenology) called Marketplace of the Marvelous by Erika Janik for a paid review and just started Want Not by Jonathan Miles. But then I realized I'm basically caught up on book reviews, so I grabbed a short book — The Undercover Economist Strikes Back by Tim Harford — that I am going to try to finish today to help fill in the gap. I also got a ton of books from the library this week that I'm excited to try and read, including A Tale for the Time Being by Ruth Ozeki and Dept. of Speculation by Jenny Offill.
Watching // I got caught up with Arrow, and I'm still enjoying the show even if I don't quite get what is happening this season (Moira for Mayor, representing the banking interests??) I'm excited that Roy is now on Team Arrow though. The boyfriend and I are still watching Deadwood and Community and I think we are going to try to start Orphan Black. 
Blogging // It's amazing what a full weekend at home will do for my ability to blog frequently. I manged to put up three book-related posts this week: a reading list of books about crazy rich people, mini reviews of We Are Completely Beside Ourselves and The Emperor's Children, and a wrap-up/look ahead post for January and February.
Promoting // One of my dearest friends, Katie, opened an Etsy shop this week called KJ is Crafty. Right now she is selling a beautiful, crochet infinity scarf — she made me on earlier this year and I can attest to how well-made it is. If you are in need of a cozy scarf, you should check out what she is selling or visit her blog for shop updates.
Loving // I'm excited to watch the Super Bowl with my friend Carrie tonight. I'm going to her house where there will be snacks, booze and some cuddle cats. 
Avoiding // I don't want to look at my calendar for this week. Between some personal commitments and work obligations, I don't think I have a free evening to myself until Friday. Ugh!
Waiting // I'm excited to watch the Super Bowl with my friend Carrie tonight. I'm going to her house where there will be snacks, booze and some cuddle cats. But I've got to get through a lengthy list of projects today before that can happen!
Anticipating // Yesterday I blogged about a project to help me through the doldrums of February, doing one new thing every day. I really excited about this and already looking forward to forcing myself to change up my routines to incorporate small changes. Yesterday, I made Olive Oil and Salt Bread from Mark Bittman's How to Cook Everything which, although a little bland by itself, seems like a nice, basic biscuit-bread recipe that you could dress up with some additions or serve with a soup or chili. Yum!