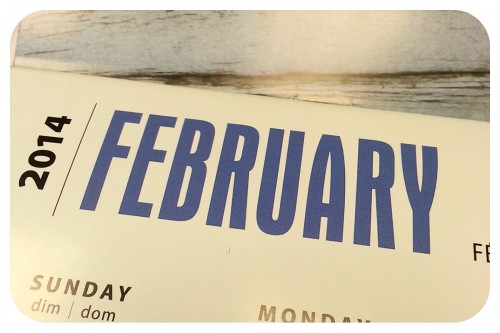 February is my least favorite month of the year. In general, I am not a fan of winter (as anyone who reads this blog for more than a week surely knows), but I have reasons to appreciate every other winter month besides February. In November, the cold weather is new and exciting. In December, there's the bustle of the holiday season. January is (for me) full of travel and setting new routines. And by March you can usually (usually!) start to see signs of spring coming.
But February? February is the worst. It's still definitely winter, but there's nothing "extra" to look forward to besides Valentine's Day, which is a holiday I don't like anyway. February is the shortest month of the year, but my gosh does it feel long to me.
Rather than sitting around and stewing about how unhappy I am about February, I decided to try something a little more proactive this year, a project to head off the doldrums that February inevitably brings – I am going to try one new thing every day this month.
To keep this from being stressful, the bar for what counts as a "new thing" is extremely low. Try a new sandwich at Subway. Bake a new kind of bread. Try a new recipe for soup. Read the first issue of a new comics series. Mix a new cocktail. Listen to a new podcast. See a new play or movie. There might be some bigger new things thrown in, but for the most part I just want to appreciate small changes to my routine that will create something different to look forward to each day.
Since this is the first day of February, the challenge starts now. The plan at the moment is to cook up a batch of olive oil salt bread from Mark Bittman's How to Cook Everything, but I suppose that could change by this afternoon.
Tomorrow I'll be watching the Super Bowl with my friend Carrie, which I haven't done before, and trying a new recipe (TBD) for a snack to share. Simple, but just different enough that I'm already looking forward to it. Bring it on, February.
How do you keep yourself out of a February rut? What are some of your favorite (simple) new things to try?