This post is part of the Bloggiesta, a weekend challenge where bloggers spend time on pesky blog tasks or work to get ahead on their blogging. This mini challenge is about thinking outside the box for better blog posts.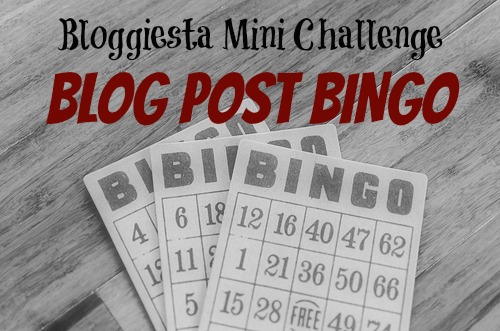 One of the biggest challenges for me as a blogger is staying motivated and excited about my blog. One of the ways I combat that is trying to mix up the types of blog posts I write. It's easy to fall into a rut of constantly posting the same type of posts over and over again, especially for us book bloggers who write about similar topics all the time.
The purpose of this mini challenge is to brainstorm new ways to write about our favorite topic — books! — to keep blogging fresh and exciting.
Step 1: Review the (Many) Types of Blog Posts
I found several great resources that give suggestions on types of blog posts to write. You probably don't have to read all of these today, but bookmark the ones you find helpful.
Step 2: Brainstorm
Your challenge, should you choose to accept it, is to brainstorm ideas for as many of the following types of blog posts as you can. If a post type sounds uninteresting, skip it. If it sounds too technically challenging, think of an idea anyway.
A Link Post – share link (or series of links) your readers might find interesting
A Short Post – less than 200 words
A List Post – simple as it sounds, a list of some sort
An Opinion Post – take an event, news, or another blog post and share your opinion on it
A Poll or Question Post – post a poll or ask your readers a specific question for feedback
A How-To Post – you're an expert in something; big or small, share how to do it
A Long Post – more than 700 words
A Review Post – self-explanatory, I think 
A Definition Post – show your expertise about a topic related to your blog
A Personal Post – something that's going on in your life, related to your normal blog topic or not
A Resource Post – you know a lot about something, share the sites/books/tutorials you go to on that topic. This is similar to a link post, except these links should be related in some way and be useful for other people who want to know about the topic.
A Quote and Commentary Post — share a quote you love, or a quote from Twitter, and add some commentary
An Infographic Post — make a chart or infographic (here is a resource for that)
A Storify Post — use Storify to gather posts on a particular topic
A Frequently Asked Questions Post — answer some common questions on a topic or solicit questions then answer them
A Video Post — shoot a video of yourself, put it on YouTube, and embed it into a post
A Comparison Post — take two (or more) things and compare them for readers
An Interview Post — think outside the box for someone you could interview on a subject
An Old Post Update — Find an old post you're proud of and update it for today
A Promotional Post — pick something you love and write a post promoting it (this does not have to be for compensation)
Step 3: Move on for Now
Take that list and put it somewhere safe. Then pull it out when you reach a point where you feel your blogging mojo going away and need some fresh ideas. Or, spend part of the Bloggiesta drafting and scheduling some of your new post ideas.
If you have any questions about the posts or have suggestions to add, please share them in the comments!
Photo Credit: Jessica F. on Flickr via a Creative Commons License