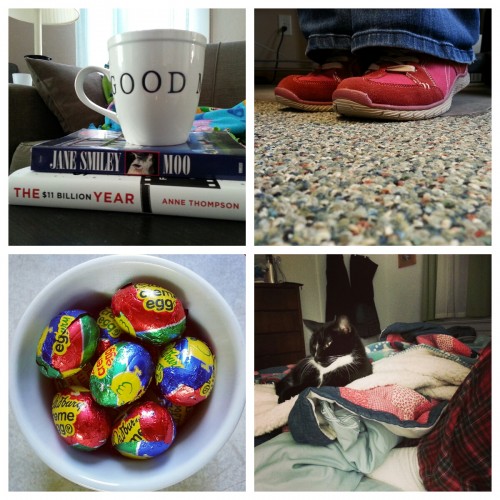 Time and Place // 10:30 a.m. on my couch
Eating and Drinking // Strawberries, an egg sandwich, tiny Cadbury Creme Eggs, and Downton Estate Blend tea (Earl Grey with a hint of vanilla)
Reading // I only finished one book this week, Postcards from Cookies by Caroline Clarke (April 15 from Harper), a memoir about Clarke's relationship with her birth mother. I'm closed to finishing The $11 Billion Year by Anne Thompson, a look at a single year in the film industry. I'm also a few chapters into Moo by Jane Smiley, a comic novel about a small, Midwestern university.
Watching // A friend and I went to see Divergent last night. It was decent, but felt a little heavy-handed at times. We were sitting in front of some tweens who made smooching noises every time Tris and Four were on the screen — funny and a little annoying.
Listening // I started The Martian by Andy Weir on audio yesterday. I'm only a couple chapters in but so far so good.
Contemplating // I saw a post yesterday about the 100 Happy Days challenge. I'm excited about the idea and considering signing up.
Blogging // This week on the blog I shared a review of Savage Harvest by Carl Hoffman and a list of 12 excellent memoirs by authors of color.
Promoting // If you are a book blogger, check out next weekend's Bloggiesta, an event focused on catching up with pesky blog tasks and getting ahead on blog projects. I don't think I'll be able to participate — I'm spending my weekend at the Prairie Gate Literary Festival — but I'll be hosting a mini challenge inspired by Blog Post Bingo, which I need to get started writing!
Hating // I've been feeling so grateful for my life the last week or so that I haven't had the energy to hate anything. It's a nice feeling!
Loving // I got some new red sneakers last weekend that I just adore. Every time I look at my feet while wearing them, I smile. The also make me want to sing one of my favorite songs, "New Shoes" by Paolo Nutini.
Avoiding // I have a jam-packed few weeks coming up, just looking at my calendar makes me head spin a bit. And I seem to keep losing a week in my brain which isn't helping!
Anticipating // I finally decided that I will be going to Book Expo America this year. On Friday I turned in my vacation request at work and convinced Florinda that we should be roomies again. After missing last year, I'm really excited to be going again.
Happy Sunday, everyone! What are you reading today?