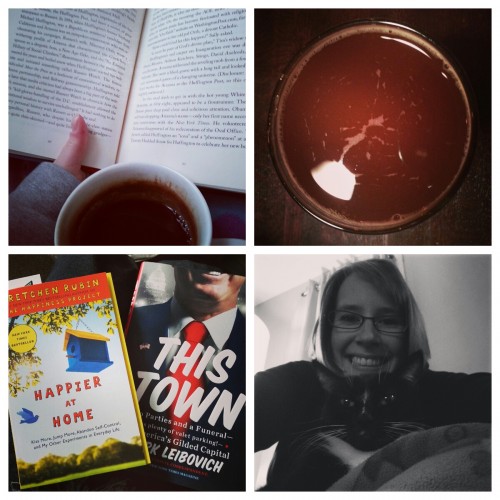 Time and Place // 10 a.m. at my desk. I just changed from my pajamas into my sweatpants, so I'm ready to take on the day.
Eating and Drinking // Nothing for the moment, but the boyfriend is supposed to be coming downstairs to make us breakfast. I had an amazing dinner on Friday night with my friend Ellie — margarita, steak with mushroom bacon butter cream sauce, and a hard cider.
Reading // I had a quiet reading week. I finished Jenny Offill's Dept. of Speculation and a book published by a friend of mine, The Adventures of Israel St. James by Nathaniel Hicklin. Earlier this week I made a stop at a new-to-me independent bookstore, Cherry Street Books, and splurged on Our Town by Mark Leibovich (which I'm reading now) and Happier at Home by Gretchen Rubin.
Watching // The boyfriend and I are watching True Detective and I started The Good Wife. As much as I love the Olympics, I'm excited that my regular shows are back (Arrow!).
Listening // I finally came back to Nick Offerman's memoir, Paddle Your Own Canoe, in audio book this week. It's a fun listen, but a little meandering so, for me, it's easy to set aside and forget to revisit if I get distracted by podcasts or something. This week my friend Erin also introduced me to Scott Bradlee and Postmodern Jukebox via their cover of "Timber" (my current favorite song). Love.
Blogging // This week I posted mini reviews of Attachments by Rainbow Rowell and A Tale for the Time Being by Ruth Rozeki and a full review of Hope Street, Jerusalem by Irris Makler. I also shared my February reading wrap up with a look ahead to March. I haven't decided what I'll be writing about this week — blogging by the seat of my (sweat)pants!
Promoting // I really liked this essay about Jennifer Lawrence and the history of cool girls, which gets bonus love for discussion of Gillian Flynn's Gone Girl.
Hating // March really did come in like a lion with a wind chill warning last night into this morning. I'm trying to stay optimistic that the winter will eventually end… it has to, right?
Loving // I finished my project to try a new thing every day in February with moderate success. I don't think I got a new thing every day, but I think in total I tried 28 news things over the course of the month. I'll probably wrap that up this week.
Avoiding // I finished a bunch of my dreaded chores — dishes and laundry — yesterday, but I have to venture out for a big grocery shopping trip at some point today. That probably means real pants. Life is hard!
Anticipating // My project list for the day includes some time cleaning and organizing my desk. I need to get rid of some things, which I'm actually a little excited about. 
Happy Sunday! What are you reading today?