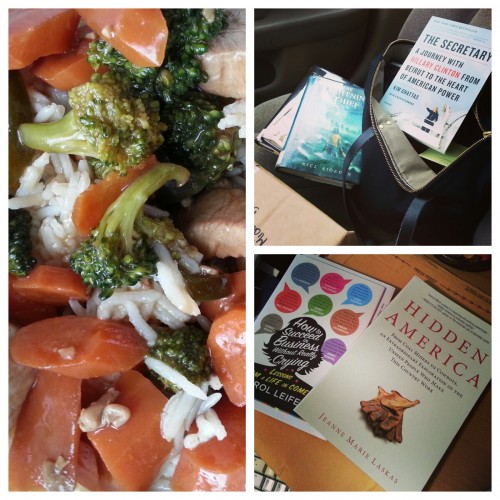 Time and Place // 9:00 a.m. at my desk… I hate springing ahead
Eating and Drinking // Peach black tea — I'm almost done with this box, continuing my effort to use up most of my tea stash.
Reading // I spent the entire week with a book I've been excited about reading since it came out, The Secretary by Kim Ghattas. The book is a look at Hillary Clinton's four years as Secretary of State as well as an exploration of how America wields power on the world state. Ghattas is a native of Lebanon, so she brought an interesting perspective to this first-hand account. It was absolutely awesome.
I'm in that place where you finish a great book and then don't quite know where to go next. I'm leaning towards fiction for an entirely different reading experience, maybe Boy, Snow, Bird by Helen Oyeyemi. Or, I might grab one of the other books that arrived in the mail this week, Hidden America by Jeanne Marie Laskas.
Watching // The boyfriend and I are still enjoying True Detective and I've been making my way through The Good Wife. I've seen a few scattered episodes of the show, but never watched it all the way through, so that's exciting. I think I'm going to take a break this week an watch a few episodes of Veronica Mars ahead of going to the movie next Saturday with my sister!
Cooking // The boyfriend and I love stir fry. I usually use those spice packets because they're easy, but I recently found a super simple, mostly made from pantry staples stir fry recipe from Iowa Girl Eats that I adore. I want to eat it all the time.
Blogging // This week I wrote about why I make book lists (the paradox of choice!) and shared a review of Wave by Sonali Deraniyagala. This week I'm hoping to have a review of Busted by Wendy Ruderman and Barbara Laker and something else… blogging by the seat of my pants continues!
Promoting // This analysis of how the low price for genre fiction may be developing a market for lemons (a situation where price is no longer a reliable indication of quality) is interesting. I also loved this True Detective/Law & Order credits mash-up.
Loving // It's supposed to get into the 30s and 40s this week… I am so excited for almost spring temperatures!
Waiting // The LA Times Festival of Books finally released the list of participating authors, which is awesome! I am anxiously waiting for the schedule to get posted so I can start making plans for my trip to the festival. (P.S. Do you live in Southern California? Florinda and I want to arrange a book blogger meet up at the FOB!)
Anticipating // My sister and I have tickets to see the Veronica Mars movie on Saturday! As Kickstarter backers of the project, I know we are both excited to see what we helped make happen!