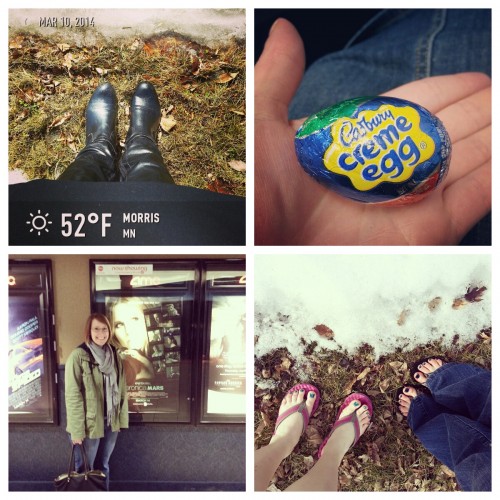 Time and Place // 8:40 a.m. at my dad's computer in the Twin Cities
Eating and Drinking // Nothing yet, I'm saving room for the birthday brunch we're having in a couple of hours
Reading // I had a slow, but great, week of reading. I finished Boy, Snow, Bird by Helen Oyeyemi, a re-imagining of Snow White set in New England in the 1950s, on Thursday night. Since then I've been reading Postcards from Cookie by Caroline Clarke (April 15 from Harper), which follows on a lot of the themes of race and motherhood from Boy, Snow, Bird. I love unexpected book connections like that.
Watching // My sister and I went to see the Veronica Mars movie yesterday afternoon and it was exactly what we we, as fans and Kickstarter backers, were hoping for in a movie from the show. I won't talk about it much because of spoilers other than to say that it was awesome and so worth the money we spent to help have it made.
Listening // I finished an audio book this week! I've been putzing through Paddle Your Own Canoe, a memoir by Nick Offerman, on my drive to the Twin Cities on Friday night. I liked it a lot, but because the book as a whole was so meandering I never had any forward momentum pushing me to finish it.
Blogging // This week I shared a review of Busted by Wendy Ruderman and Barbara Laker and brought back the Nonfiction Recommendation Engine. It was a good week of blogging, despite being totaly distracted by the beautiful weather we had for a couple of days.
Promoting // Serena at Savvy Verse and Wit is organizing a blog tour for National Poetry Month. I'm all signed up for a post and you should be too!
Hating // I had a tough week at work this week — lots of (in my opinion) unwarranted criticism about how we're doing — but I managed to leave most of that at work to enjoy my weekend at home.
Loving // My sister and I got pedicures yesterday morning and spend our day of shopping and movies wearing sandals. There's still snow on the ground, but whatever. I love my sparkly teal toenails.
Avoiding // This is the time of year when all I want to do is stuff my face with Cadbury Creme Eggs. I need to stay away from those delicious little sugar bombs.
Wanting // I wish my weekend was a day longer, but I'll get over that soon enough.
Anticipating // My sister made two kinds of cupcakes for my dad's birthday — carrot cake with cream cheese frosting and chocolate with cookie dough frosting. I can't wait to try them both!
Happy Sunday, everyone! What are you reading today?