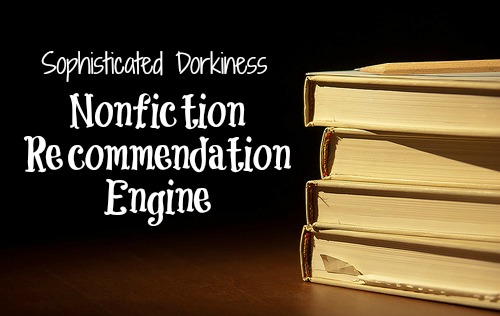 Hey, look! The Nonfiction Recommendation Engine is back, and this time with a snazzy new header. Thanks PicMonkey! With this feature, I ask readers to fill out a short list of questions that I'll use to develop a couple of personalized book recommendations. But my real hope with the series is that other readers will jump in with recommendations in the comments, making each post a great resource for nonfiction reads. You can catch up with Part I, Part II and Part III by following those links.
The first request this week is from Jessica at The Bluestocking Society: 
I am looking for a book on goal setting, philosophy or autobiography, similar to The Autobiography of Benjamin Franklin (loved it), Getting Things Done by David Allen (loved it) or The Happiness Project by Gretchen Rubin (liked it).
I am addicted to the science-y, self-help books that talk about how to be a better, more productive person, so I have plenty to offer. I'm going to share one book I have read and one that I have not.
The first is Manage Your Day-to-Day: Build Your Routine, Find Your Focus and Sharpen Your Creative Mind, edited by Jocelyn K. Glei. This book is a collection of short essays by "leading creative minds" about how to create time during a hectic work environment. The essays are divided into four sections: building a rock-solid routine, finding focus in a distracted world, taming your tools, and sharpening your creative mind. I like this one because it shows how real people have developed strategies for making time for important work.
The second is What The Most Successful People Do Before Breakfast by Laura Vanderkam. This book is a collection of three shorter ebooks Vanderkam published that look at strategies for maximizing mornings, weekends and work. I've read the section on weekends, which gave me many good ideas about planning to make weekends more invigorating. I'm looking forward to the rest.
The second request this week is from Nikki at Book Pairing: 
I adore books that get behind scientific discoveries and the people who made them. I'm certainly not a scientist in my own right, but something about how these discoveries are made is fascinating. And, as much as it goes with it, I love histories of food and how culture is all tied up into that. Love love love it. Some books that I've recently enjoyed on this topic are A Short History of Nearly Everything by Bill Bryson (one of my favorites ever), The Immortal Life of Henrietta Lacks by Rebecca Skloot and Cooked by Michael Pollan. I love nonfiction that has an emphasis on the narrative just as much as the academic facts. I want to learn stuff, but I want to learn it in the same way I learn things in novels.
This is a fun request, since I love these sorts of books too. Right now I'm reading one that I think fits your first request, The Remedy: Robert Koch, Arthur Conan Doyle and the Quest to Cure Tuberculosis by Thomas Goetz. This one is out on April 3 from Gotham, and tells the real life detective story of how Conan Doyle exposed the shaky science behind a supposed cure for consumption. I'm only about 30 pages in, but I love it so far.
My second suggestion is another one I've only read bits and pieces of, but heard wonderful things about — The Man Who Couldn't Eat by Jon Renier. In this memoir, Renier writes about his battle with Crohn's disease and his experience when a life-saving surgery makes it so he cannot eat at all. The magazine article that inspired the book won the James Beard Foundation Award for Magazine Feature Writing, which is another good sign in its favor.
Interested in getting a personalized nonfiction recommendation? Please fill out this form to get on the list. I currently have four requests in my queue.