Many months ago, I tried to launch a feature that I, uncreatively, called the Nonfiction Recommendation Engine. Basically, I asked readers to fill out a short list of questions that I'd use to develop a couple of personalized book recommendations. The feature got a great response, but after two posts (Part I and Part II) I lost steam and the posts stopped coming.
I really liked this feature, so I'm committing to bring it back regularly. Forgive me for my negligence – I hope these recommendations are still worthwhile!
First up is a request from Katie at Book Addict Katie: 
I'm looking for a book on civilization/culture, especially the Renaissance. I've read The Swerve: How the World Became Modern and I loved the topic, but I found the book lacking in actual evidence. It was more hypothetical than actual findings. I'm looking for something not too academic, but definitely something that has citations or footnotes. Something that's easy to read, but has actual facts to back it up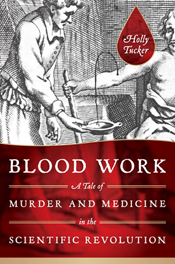 Man! This one is a challenge. My depth of reading for history is pretty slim, especially when it comes to the Renaissance. But I do have two suggestions, one new suggestion and one that I've previously mentioned. 
First, I suggest Blood Work by Holly Tucker. The book is a history of blood transfusion in France between 1665 and 1668. At that time, French and English scientists were in a race to see who could perform a successful transfusion the soonest, first focusing on animals and then people, and a mysterious death that took place with one of the first recipients. Tucker is history professor, so the book is definitely well cited, but also very readable.
Second, I think Galileo's Daughter by Dava Sorbel would be great. The book is a biography of Galileo and his daughter, a cloistered nun, and a look at the world when Galileo was turning it upside down. Everyone I know who loves science writing loves Sorbel, and a brief skim through this book (which has been sitting on my shelves for ages!) makes me think it will be wonderful.
Second, we have a request from Jenn at Give a Hoot, Read a Book: 
I'm surprisingly interested in Nazi Germany and WWII and such. I say surprisingly, because I had a horrible time in history classes. The Book Thief was one of my top favorites in 2011. I can't think of any others off-hand that I've read. I do have Destined to Witness: Growing Up Black in Nazi Germany on my to-buy list, so I'm more interested in the off-beat stories like that, I think. Please don't recommend The Rise and Fall of the Third Reich!! My dad has been trying to get me to read that one for years! I guess I just don't want those "old man" war books, if you know what I mean. I'd say more light and personal, but it's obviously going to be a little serious if it's about Nazis. 🙂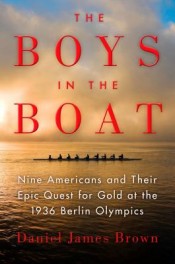 I am totally with you on avoiding "old man" war books. I have a really hard time with a lot of World War II history books for precisely that reason; I like quirky stories and stories about people more than I like stories about battles and strategies. Happily, I have two books that may fit the bill – both are set during the World War II time period, but don't actually focus much on the war itself.
The first is one of my favorite books from 2013, The Boys in the Boat by Daniel James Brown. The book is set, in part, at the the 1936 Berlin Olympic Games and tells the story of how a group of working class college students from the University of Washington challenged the elite crew teams of Europe during the games. It's an amazing underdog story that I totally adored.
The second is The Secret Rooms by Catherine Bailey, the story of how a rich family tried to hide some of their family secrets, including a plot that protected one of their sons from fighting on the front lines during the war. This one is a great historical mystery set in the time period Jenn is interested in.
Whew! It feels good to have another one of these posts out there. My real hope with this series is that other blog readers will jump in and help out too, making each post a big list of great nonfiction for people to consider. Please add your recommendations to the comments and I solemnly swear that I will get another one of these up soon.