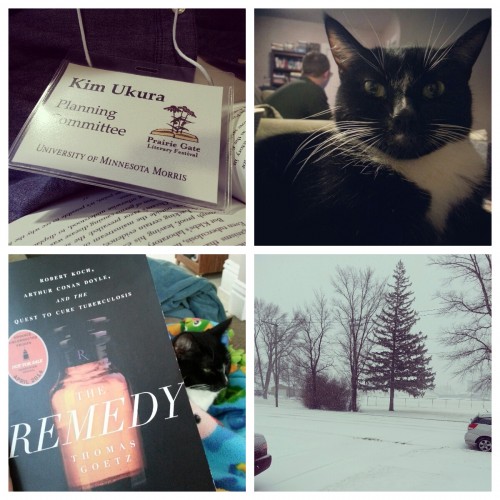 Time and Place // 9:30 p.m. on Saturday in my office. Normally I sit down and write these posts on Sunday mornings, but I need to take a trip to the Twin Cities on Sunday to see my family. Rather that skipping a second week in a row, I'm drafting this Saturday night — that's as close to "currently" as I'm going to get this week.
Eating and Drinking // Cheez-Its and tea
Reading // As I mentioned in my March wrap-up post, it's been a strange few weeks of reading… or rather, not reading. Since I last updated I've finished two books, The $11 Billion Year by Anne Thompson (a look at a year in the film industry) and The Remedy by Thomas Goetz (a story about the fight to cure tuberculosis). Both were excellent, and I'm hoping to get reviews up this week.
I'm not quite sure what I'll be reading next. I have a copy of Be Safe I Love You by Cara Hoffman from the library (fiction about a young, female war veteran), but I'm also thinking about grabbing The Humor Code by Peter McGraw and Joel Warner (nonfiction about what makes things funny).
Watching // I've been pretty much mainlining episodes of The Good Wife — I'm already into season four! I need to cut back, but man, is this show good.
Listening // I'm slowly making my way through The Martian by Andy Weir, which is just awesome.
Blogging // This week I posted my March reading wrap-up with a look to April and 12 excellent true stories by authors of color. I don't quite have a blogging plan for this week, but I am hoping to share a little bit about my plans for the LA Times Festival of Books next weekend!
Loving // Last weekend I helped out at a literary festival at the college in my town that I've been helping to organize since last spring. It was an amazing event, especially because the writers we brought to campus were so excellent — Rachael Hanel, Debra Monroe, Matt Hart, Joanna Scott and Jake Lloyd and Anthony Wayne. They were the most generous and thoughtful people throughout the weekend.
Hating // One fun part of this week was taking Hannah to the vet for what I can only describe as the cat flu. The sickness and the vet were unpleasant for both of us, but she seems to be on the mend.
Avoiding // I still haven't filed my taxes. I hate doing it and will probably put it off for several more days… especially since I will probably owe some money.
Wishing // There was an unexpected, untimely death in my extended family this week, which is the reason for my quick trip home. I deeply wish for some solace and comfort for all of my relatives.
Anticipating // Given the fact that we had snow in Minnesota this week, I am even more excited for the beautiful weather anticipated in Los Angeles next weekend. I am flying out to LA on Friday morning and have a jam-packed weekend planned. It's going to be awesome. Now I just need to get a bunch of work done before I go!
Happy Sunday, everyone. What are you reading today?