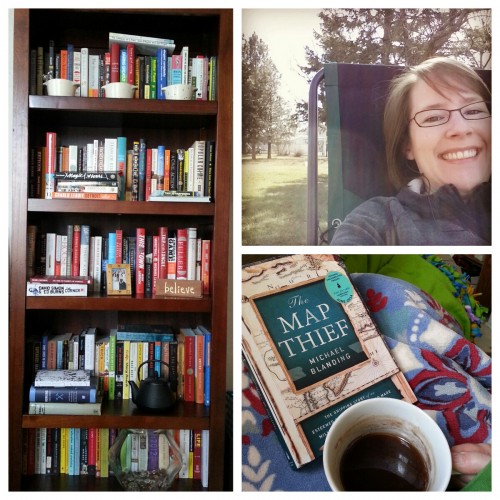 Time and Place // 11:45 a.m., Easter Sunday, at my desk in Morris. I was planning to go to the Twin Cities to see my family this weekend, but I seem to have picked up a cold while traveling and didn't want to make everyone sick too.
Eating and Drinking // Early Grey with vanilla tea and a banana. I need to think about lunch soon.
Reading // April has continued to be a slow reading month. Since I last updated, I've finished just one print book, The Empathy Exams by Leslie Jamison. This collection of essays from Graywolf Press been getting a lot of well-deserved good press — it's a remarkable collection of essays, all exploring different ideas of empathy and human understanding. You can read versions of the first and last essays of the collection online, which I urge you to do — "The Empathy Exams" from Believer Mag and "Grand Unified Theory of Female Pain" from The Virginia Quarterly Review.
Today I am digging into The Map Thief by Michael Blanding, a true story about rare map dealer who made millions of dollars stealing maps from other collectors. So far I'm really digging it. If I have time, I also want to get back into One More Thing, B.J. Novak's collection of short stories that I picked up at #BookFest.
Watching // I finally finished watching every episode of The Good Wife that is available online, which is a good thing. I love the show, but I need a break. Last night I flew through the first three episodes of The Hour, a short British series about a news program in the 1950s that I've seen compared to HBO's The Newsroom. It's more of a thriller than a show about journalism, but it's a ton of fun anyway.
Listening // U finished listening to Andy Weir's The Martian last weekend and man, was that fun. It worked really well as an audio book, too, so check it out! Yesterday the afternoon was just gorgeous, so I sat in the sun and listened to Veronica Mars and the Thousand Dollar Tan Line, another enjoyable romp of a book.
Organizing // I spent a good chuck of yesterday afternoon clearing out one of my five bookshelves, the unread nonfiction shelf. It was getting pretty full, so pulled a bag of books to donate and moved some books to new homes. I'm more apt to choose books from a better organized shelf, so this was needed. I'm hoping to go through the rest of my shelves over the new few weeks and get them all organized in LibraryThing.
Blogging // This week I shared an interview with a poet friend of mine for National Poetry Month, gave a brief recap of my trip to Los Angeles and offered another nonfiction recommendation for one of my favorite book.
Hating and Loving // We got five inches of snow on Wednesday, then hit a high of 70 degrees yesterday. Spring in Minnesota is just the craziest thing.
Avoiding // I am trying, rather unsuccessfully, to avoid getting stressed out about a work project that needs to get done this week. I try to leave work and work, but this weekend it's been tough.
Anticipating // Next Saturday, April 26, is the spring edition of Dewey's 24 Hour Readathon! At this point, I'm planning to participate for as much of the day as I can, although I haven't officially signed up yet. I've already started putting together a stack of books to choose from — one of my favorite parts of the event.