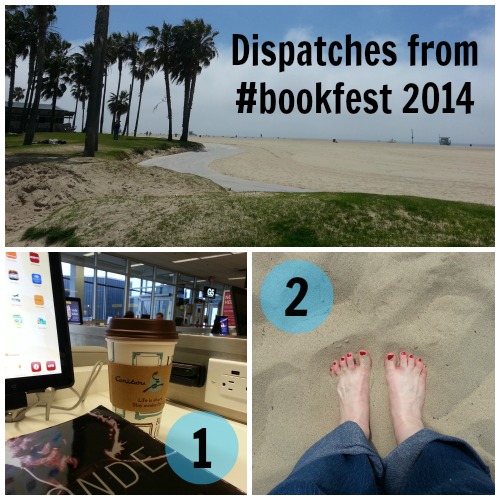 Whew! It's been about 24 hours since I finally made it back to Minnesota from my weekend in Los Angeles for the Los Angeles Times Festival of Books and I'm just starting to get my thoughts together. Rather than a lot of words, I've got a photo-heavy post to try and share some of the highlights of the trip.
1. I left for LA early on Friday morning from the Minneapolis/St. Paul airport, fortified with black tea and a good book (Blonde by Joyce Carol Oates). I flew out of a fancy gate — there were plenty of tables with iPads on them so you could order food and track your flight.
2. I arrived in LA around lunch Friday where I was picked up by Florinda (The 3R's Blog). We immediately headed to Venice Beach so I could wiggle my toes in the sand and walk in the (chilly!) Pacific Ocean. After a scenic drive home along the Pacific Coast Highway, we went out to dinner with Florinda's husband, Tall Paul. I'm so glad they were gracious enough to host me for the weekend.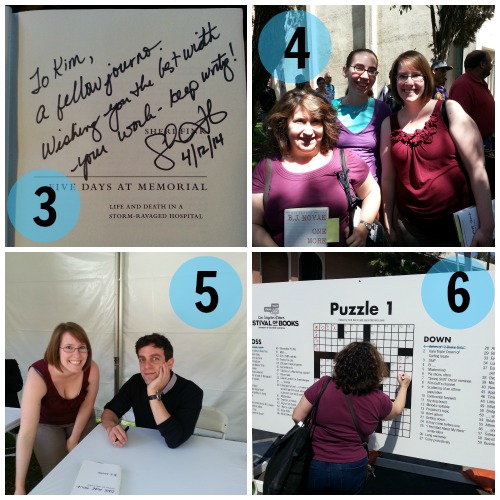 3. Our first event on Saturday morning, the first day of the festival, was a panel with Sheri Fink (Five Days at Memorial), Charlie LeDuff (Detroit: An American Autopsy) and Amy Wilentz (Farewell, Fred Voodoo). All three of their books focused on places in crisis — New Orleans, Detroit and Haiti — so much of the discussion was about journalism and the role that writers have in telling these stories. After each panel, the authors were available to sign their books and chat for a few minutes. I love this inscription from Sheri Fink so much.
4. The second event we went to was a conversation with B.J. Novak (Ryan from The Office and author of One More Thing). While we were waiting in line to get books signed, we met up with Anastasia (Here There Be Books) for a few minutes before she had to catch a train. Anastasia and I roomed together when we went to Book Expo America in 2011, so it was great to see her.
5. When I finally got to meet B.J. Novak, I was a total spaz. I almost skilled getting a picture because it seemed too silly, but then figured what the heck. He doesn't look nearly as excited (or sunburned) as I do!
6. One of the cool parts of the festival (among many cool things) were the giant crossword puzzles around the campus. Florinda filled out quite a few answers on one of them.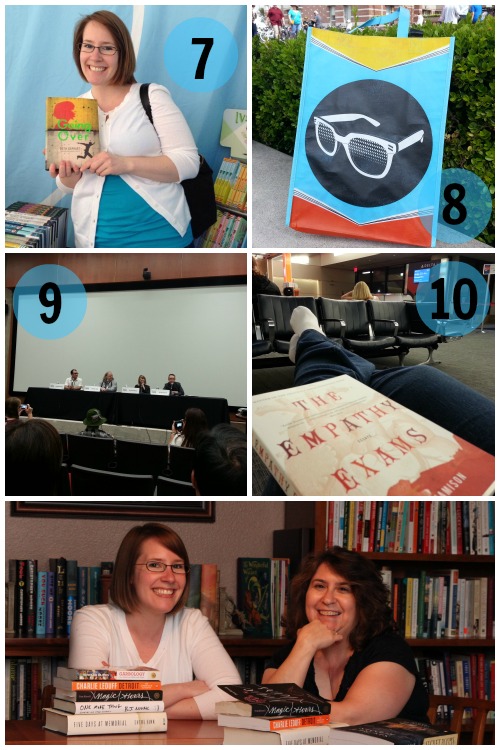 7. On Sunday, we got to the festival a little later than we planned and missed out first panel. That turned out to be fortuitous, however, since it meant we got to spend a little extra time at the Chronicle Books booth. After I found a copy of Beth Kephart's Going Over, Florinda got to talking with some of the publicists working the booth about the book and her friendship with Beth. It was really fun — I love when publishers are excited and nerdy with book bloggers.
8. We also bought enough books from Chronicle Books to get a free tote. It is a nice one!
9. We made it to two panels on Sunday. The first was a panel about food culture with authors Gustavo Arellano and Dana Goodyear and food critic Jonathan Gold. This panel, we learned, was the first one to sell out at the festival, which made it feel more exciting! There was a lot of discussion about how high-end food is becoming more extreme, while the American palate is starting to explore different tastes.
Our second panel, which I didn't grab a picture of, featured more nonfiction writers: Tom Bissell, Dana Goodyear (again), Edward Humes and Greg Sestero. This panel, called "Nonfiction: Exploring a Singular Pursuit," was more of a general discussion about books on obsession and the obsession of writing. My favorite observation came from Tom Bissell: When you start a book, you want it to be great. When you get to your deadline, you just want it to be done. Truer words were never spoken.
We spent the rest of Sunday meandering around the festival but I, unfortunately, got really lazy taking pictures and don't have many more to share.
10. After another great dinner with Florinda and Paul (and a photo session in front of Florinda's amazing wall of books), they dropped me off at LAX at about 9 p.m for my red-eye back to Minnesota. I got a few chapters of The Empathy Exams by Leslie Jamison done before I gave up on reading and finished listening to The Martian by Andy Weir.
So there you have it, some uncollected thoughts on my trip to BookFest 2014!